If you have any aviation stories you would like to share, please send them to fsxchicago@gmail.com and we will publish them in our future editions and directly on our websites!  Are you working on an interesting project? Let the community know!
---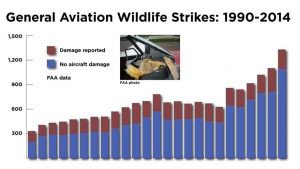 AVIATION Safety
Birds a billion-dollar hazard
An April accident in Alaska that claimed four lives may have been the first fatal crash caused, at least in part, by a bald eagle, though it was far from the first encounter between a general aviation aircraft and the national bird.
Wildlife strikes of all kinds continue to increase despite efforts to keep critters away from airports, and the estimated damage done, in dollar terms, is fast approaching $1 billion annually.
NTSB lead investigator Shaun Williams said recently that it remains unclear what role, if any, the collision with a young bald eagle played in the fatal crash on April 20. The pilot was former NTSB investigator George Kobelnyk, an airline transport pilot and the registered owner of the Cessna 172, which was conducting a photo flight near Birchwood Airport in Chugiak, Alaska. According to the preliminary report, Kobelnyk departed just before 9 a.m. under an 8,000-foot overcast with nine miles visibility. The Skyhawk made several low passes over the survey area near the airport before crashing and bursting into flames in a densely wooded area.
Williams said the post-crash fire destroyed much of the evidence that might help explain the loss of the aircraft and four occupants. They were, according to the Alaska Dispatch, Kobelnyk, 64; Christian Bohrer, 20; Sarah Glaves, 36; and Kyle Braun, 27. An examination of the tail section found residue that was tested by the Smithsonian Institution, and determined to be the remains of an immature bald eagle. Whether the eagle actually entered the cabin, or what role it may have played in the crash, remain to be determined, a process that may take months if the answer can even be found. But Williams said that regardless of the eagle's specific involvement in the crash, the threat of bird strikes has been increasing.
"That's why we didn't wait", Williams said of the unusual announcement of early findings from an investigation that is "still in its infancy", adding, "There's been an uptick in bird strikes in the area, particularly the last few weeks".
Wildlife encounters increased sharply between 1990 and 2014, according to a report jointly published in August by the FAA and the U.S. Department of Agriculture. Some of that increase likely results from streamlined reporting procedures (reports have been collected online since 2001), though increases in bird populations (birds account for 97 percent of all wildlife collisions with aircraft) and other factors such as land development are also believed to play a role. The report notes an estimated $208 million in damage-related costs and losses, and 172,151 hours in aircraft downtime in 2014 for civil aircraft; the website of Bird Strike Committee USA notes an estimated total of more than $900 million in damage done in collisions between wildlife and U.S. aircraft including both military and civil operations. Worldwide, more than 250 people have been killed as a result of wildlife strikes since 1988, the organization (composed of government agencies and industry groups) notes.
Seasonal migrations from July through November increase the risk of bird strikes, most of which happen at or below 500 feet during approaches to airports. Pilots can also expect a higher probability of bird encounters when flying along the major migration routes, which are detailed in the AOPA Air Safety Institute Safety Brief on the topic.
Birds have posed a threat to aviators since the beginning of powered flight. Orville Wright was the first pilot to report a bird strike, in 1908, and Cal Rogers was the first to die following a bird strike, losing control over his Wright Flyer during a 1912 demonstration flight.
More recently was an Illinois pilot's dramatic encounter with a Canada goose in 2014 (which was captured on video), though Keith Baird and his passenger both escaped injury when the goose passed between them after coming through the windshield.
Bald eagles, which typically weigh 6 to 14 pounds as adults, are among the large bird species that create the greatest hazard for aircraft, and while they are most common in Alaska, they can be found across the country. The FAA Wildlife Strike Database has recorded 217 collisions between aircraft and America's national bird since 1990, of which 24 resulted in substantial damage to the aircraft involved and two led to destruction of the aircraft.
The April 20 crash in Alaska is not yet logged in the database, though other incidents follow scenarios that may be similar. In July 2007, a Cessna 182 was destroyed after swerving to avoid a bald eagle while on short final into Matinicus Island Airport off the coast of Maine. The pilot and passenger suffered only minor injuries, but the nosewheel or propeller struck a tree, and the aircraft crashed next to the runway. In another incident, with no location noted, a flight instructor landed a Piper Cherokee after striking a bald eagle during an instructional flight. The impact left a large indentation on the horizontal stabilizer, and bent the stabilizer to the point it impeded the rudder. The insurance company ruled the aircraft a total loss. The damage done to these and other aircraft involved in bald eagle collisions was costly, $25 million in all, adjusted for inflation, though most collisions with bald eagles (about nine of every 10) resulted in minor or no damage done. That number is skewed by the high percentage of bald eagle strikes involving large transport aircraft that are less likely to be damaged by hitting a bird that size. General aviation aircraft have been involved in more than 17,000 wildlife strikes since 1990, and 29 percent of those resulted in aircraft damage.
While Alaska has recorded 61 bald eagle strikes since 1990 (excluding the April incident), Florida is not far behind with 54; the rest are scattered around the Northeast and Midwest, primarily, including eight in the District of Columbia.
The FAA and USDA are both working to reduce the growing threat posed by birds.
In Alaska, the USDA effort to reduce the bird threat is led by Marc W Pratt, district supervisor for the agency's wildlife operations. Pratt said that trained biologists are stationed at more than 130 airports nationwide, helping to guide local efforts to keep birds at bay. Such efforts can include removal of food sources (planting grass that birds don't like is one such approach), noisemakers, and even dogs, in the case of a Michigan airport where the bird-chasing border collie Piper has become an internet celebrity.
Chasing eagles away from airports is more labor-intensive in Alaska, Pratt noted, and more restricted by federal laws and international treaties. Only in the past few years has it been possible to legally remove an eagle nest built dangerously near an airport, Pratt said (a measure taken only if the nest is unoccupied). As many as 20 such nest removals have been conducted in recent years, following careful observation by trained biologists who have the local knowledge to know which nests pose a threat to aircraft operating nearby.
"What we're trying to do is through harassment, or hazing, we're trying to make that airport environment as uncomfortable as possible so that they don't want to be there", Pratt explained. "Through persistence, great persistence, we're able to eventually convince them to go nest somewhere else. It has been fairly successful".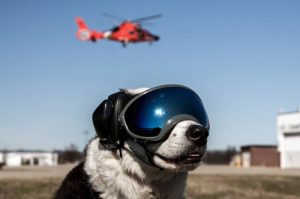 ---
AVIATION News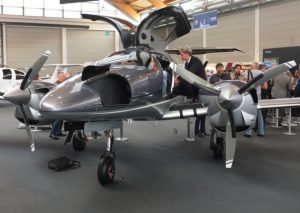 DiamondShare Now Includes New Diamond DA62
The DA62 is now included in the DiamondShare aircraft-sharing program.
Pilots who want to fly the new Diamond DA62 twin but lack the $1.08 million to buy it now have a more affordable option.
Aircraft broker LifeStyle Aviation announced this week that it's adding the DA62 to its fold through its DiamondShare shared-aircraft program, pairing those who buy the plane with a small pool of users who can access it.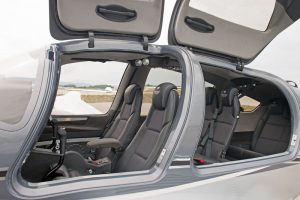 DiamondShare was originally created for shared ownership of the DA40, but with this expansion, buyers and members in major metro areas will have the option to use the DA40 NG and DA42-VI, as well as the seven-seat DA62. Membership in the DA40 program starts at $1,000 per month.
The DA62, which earned FAA certification in February, is powered by two 180-hp Austro AE330 engines that run on jet-A fuel, and features more cabin space and better performance than its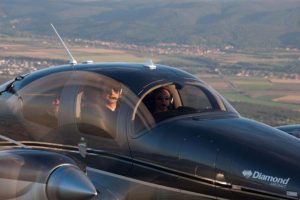 predecessors.
Prospective buyers can request demo flights in the fuel-efficient DA62 at sites along the East Coast later this month.
---
AVIATION News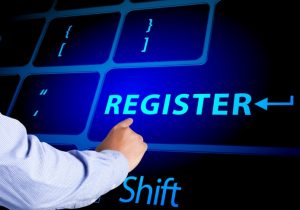 FAA makes aircraft registration application available online
The FAA has made the form used to apply for a certificate of aircraft registration available online, saving many registrants the need to acquire a paper copy of the form from an FAA office.
Applicants may now download Aircraft Registration Application, AC Form 8050-1, from the FAA's aircraft registration website, and complete and sign the form by hand as provided in instructions on the form's first page. Applicants can then send the original signed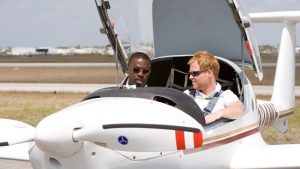 form to the FAA for processing, accompanied by evidence of ownership, and the appropriate fee. A copy of the completed and signed application form can be used as temporary authority to operate the aircraft for up to 90 days.
Before Form 8050-1 was available online, applicants had been required to obtain it from the Aircraft Registration Branch or the local flight standards district office and send the completed form, evidence of ownership, and the registration fee to the FAA. Applicants would then retain the pink copy of the form in the aircraft as a temporary registration certificate.
Applying for the registration certificate by submitting the carbon-copy form is still permitted.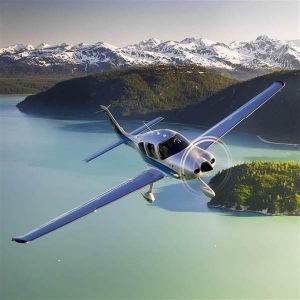 Making Form 8050-1 available online was in conjunction with an FAA review of digital signature acceptance policies and practices. Effective May 1, the FAA allows a digital signature to be used on Form 8050-1 as long as it satisfies the conditions set out in the FAA's recently issued digital signature policy.
---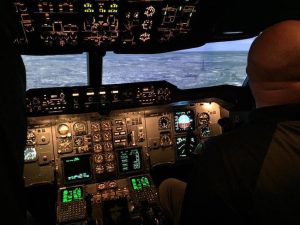 We love everything about AVIATION
Keeping your FBO customers happy
Whether you run a small regional airport GA FBO or a major BizAv corporate facility there are many things you can do to keep your customers happy, be they crew, owners or trip support providers.
Here are just a few often over looked areas worth considering: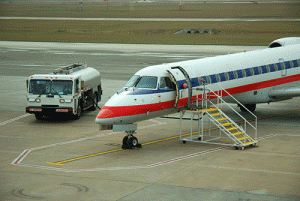 Billing: Must always be prompt, transparent and complete. Airport fees such as landing, parking and security fees should be clearly displayed as such, ideally shown as a sub item, right up the top. FBO fees should always be accompanied by a full description. Third party fees, such as catering, taxis, chauffeurs etc. again should be in one section & accompanied by a full description. If a flight department or trip support service provider supplies special billing instructions they should be followed. Nothing is worse for a crew (billing wise that is) or trip support provider than a late or incomplete invoice. For the FBO, it can result in late payment, part payment and even loss of the customer. Every FBO needs to have a front line staff member in the billing loop as accounts department staff very often do not have any understanding of what happens on the ramp and probably could not care less. Almost every FBO I have consulted for was found to be losing out on significant revenue due to a disconnect between the services provided by the ramp agents and the accounts department processing of the bill.
Aircraft: All aircraft owners or flight crew are concerned about their aircraft while left on the ramp or in the hangar. Security, hangar rash (minor incidents involving damage to aircraft that typically originate due to improper ground handling in and around a hangar, other aircraft or objects on the ground) and FOD are a constant consideration. A well kept hangar and tidy ramp will always be noticed by pilots and will instil confidence.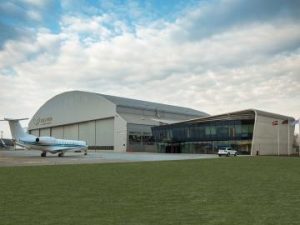 Ramp staff: Your front line defence! Well trained, courteous and knowledgeable staff will always stand out. Clean, tidy and with matching uniforms suitably selected for ramp operations will catch the eye but also ensure your team are provided proper PSE and always ware/carry it.
Customer service: "Going the extra mile" is often cited as the mark of a good customer orientated operation. Frankly, the simple things come first, reading, understanding, confirming and carrying out the handling request instructions. Have everything in place and be ahead of the curve at all times. Get all of this right and it's a great start. When the customer throws a curve ball, that's when your team need to be able to fall back on training, back office contacts lists, excellent communication and a will to source a solution. Sometimes the customer will be unreasonable, looking for something that is just unavailable or not possible at that time. This is when team members get the chance to either pull out all the stops to comply with such a request or to fully explain why the request cannot be fulfilled and to explore all the alternatives. Above all, staff should try to anticipate clients needs, learn what specific clients likes, dislikes and patterns are for future reference.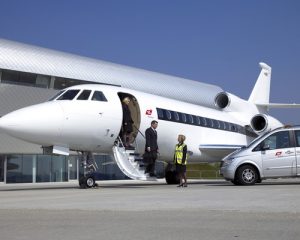 Pet hates: Owners or passengers can react badly to staff for what they may see as over familiarization, inattentiveness, sloppiness, unkempt dress, cheap aftershave/perfumes or abrupt manner. Handling their baggage with due consideration is paramount. If an owner takes a dislike to a member or members of staff it can cause all kind of problems and can lead to a change of FBO and loss of business.
---
AVIATION News
Transcontinental Open Biplane Flight Cut Short by Crash
Spirit of Artemis, a Boeing Stearman biplane piloted by Tracey Curtis-Taylor, who was using the airplane to retrace old
airmail routes across the United States, crashed in Arizona last week.
Fortunately, Curtis-Taylor and her passenger, Ewald Gritsch, both walked away from the accident, but the airplane is
in need of major repair.
In her own newsletter, Curtis-Taylor reported that the airplane suffered a partial power loss shortly after lifting off
from the runway at the Winslow-Lindbergh Regional Airport in Winslow, Arizona, which sits at nearly 5,000 feet.
Curtis-Taylor had no choice but to land on the desert floor. About 20 feet after touching down, "the right wheel
struck a dense sage root mound, which tore off the right landing gear and threw the plane onto its left wing. It then
cartwheeled tail over the nose in a cloud of sand and dust", Curtis-Taylor wrote.
Curtis-Taylor described the damage to the airplane as "extensive" and, while she was offered an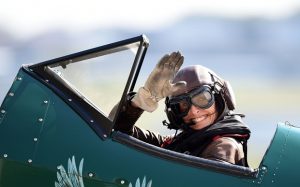 other Stearman to
complete her flight this summer, she is committed to continuing in Spirit of Artemis.
In 2012 and 2013, Curtis-Taylor flew the open cockpit biplane through 15 African countries, covering more than
10,800 nm from Cape Town, South Africa, to Goodwood in Great Britain. From there, she flew through Europe, the
Middle East, Asia and Australia. She completed that flight, which covered about 11,300 nm, in Sydney, Australia, in
January.
Until the unfortunate incident in Arizona, Curtis-Taylor had flown along the West Coast from Seattle to Santa Monica
before she started heading east.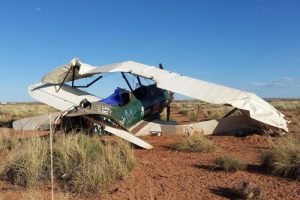 ---
AVIATION News
Glider instructor designs cockpit simulator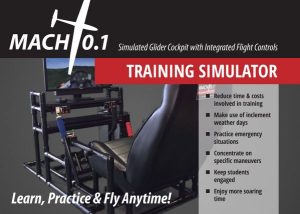 The author of a series of glider instructional materials has designed a cockpit simulator with integrated flight controls
to enable glider pilots to train at home, at a glider club, or at a commercial operation.
The Mach 0.1 glider cockpit simulator includes a stick, adjustable rudder pedals, spoilers, wheel brake, landing gear,
trim, and a tow release handle. A flight instructor can use the included remote control to simulate a rope break or an
air brake failure in both open and closed positions. The Mach 0.1 is designed to be used with the Condor soaring
simulator software program.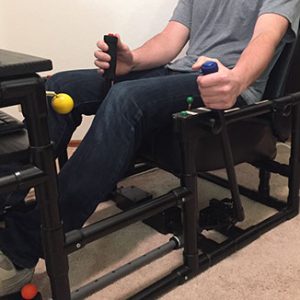 Russell Holtz, author of Flight Training Manual for Gliders andGlider Pilot's Handbook of Aeronautical Knowledge,
said a commercial glider operation can increase its revenue by training multiple students at once using a single flight
instructor, or by providing evening or winter courses when actual flying would be impossible. The simulator could be
rented to students to practice by themselves before or after a lesson, he said.
Holtz said lessons in Condor correspond to material in the Flight Training Manual for Gliders. The book and simulator
are sold on his Gliderbooks.com website. Free simulator lesson plans can be downloaded from the website.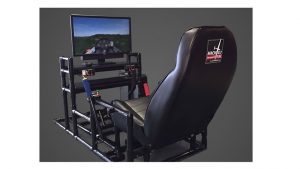 A benefit of training with a flight simulator is that you can break maneuvers into tiny pieces, Holtz said. For example,
new glider students typically have difficulty keeping a glider rolling straight down the runway after a landing, he said.
The Mach 0.1 can be set up with a scenario that places the student in the glider, on the ground, just after the glider
has touched down. "The student can then practice a rollout before they ever do a landing", he said. When the student
progresses to landings, using a simulator, the student can perform 20 landings in the time it would take for one
pattern tow in a real glider, he said.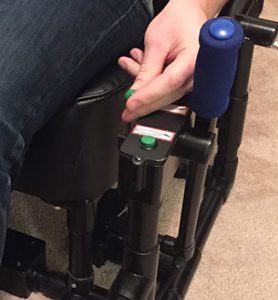 Similarly, emergency procedures such as recovering from a rope break at a low altitude can be practiced safely in a
simulator, Holtz said.
The Mach 0.1 simulated glider cockpit sells for $1,899 and does not include computer, monitor, keyboard, mouse, or
simulator software.
---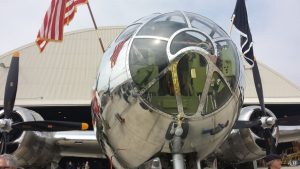 AVIATION History
B-29 "Doc" Receives Airworthiness Certificate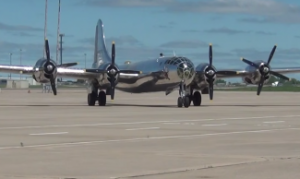 The newly restored B-29 "Doc" now has an FAA airworthiness certificate, 16 years after restorers brought the historic
aircraft to Wichita. Doc's Friends, the organization behind the project, said Friday a first flight is "imminent".
The B-29, salvaged from the Mojave Desert in 1987 by Tony Mazzolini, was moved in pieces to Wichita in May 2000
for the restoration, which gained momentum a few years ago with the formation of Doc's Friends. The heavy bomber's four engines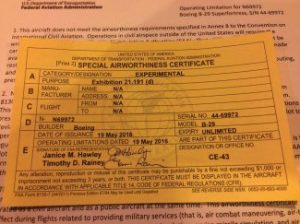 started for the first time in September and the team performed a taxi test earlier this month.
The restoration team will soon submit a formal request to the US Air Force and Pentagon to gain access to a runway
at McConnell Air Force Base in Wichita for high-speed taxi and flight tests.
"It's been nearly 60 years since Doc has flown and 16 years since this majestic warbird arrived in Wichita to be
restored, and now we are another major milestone closer to a return to flight", said Jim Murphy, Doc'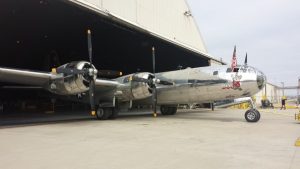 s Friends
Restoration Program Manager. "Today, we celebrate this major milestone and honor the hundreds of thousands of
hours of volunteer work that has gone into restoring our B-29".
---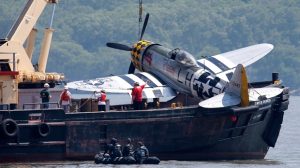 AVIATION History
World War II-era plane crashes into the Hudson River, killing pilot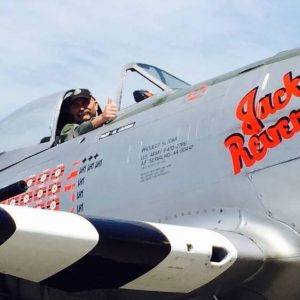 A vintage World War II-era aircraft went down in the Hudson River between New York and New Jersey on May 27. The pilot was flying the P-47 Thunderbolt as part of a celebration marking the 75th anniversary of the aircraft. The
pilot died in the crash.
Officials said William Gordon, the 56-year-old pilot from Key West, Fla., died in the crash
The vintage aircraft was scheduled to participate in the Jones Beach Air Show on Long Island this weekend, and it
had already flown twice Friday before the crash.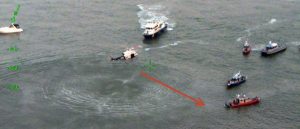 The American Airpower Museum was celebrating the Thunderbolt's 75th anniversary, and the plane had been
participating in a promotional photo shoot at the time of the crash.
Hours after the crash, the plane was secured to a harbor launch, and rescue divers entered the aircraft, according to
New York police. They removed the pilot from the water, who was declared dead by emergency medical personnel.
Gordon was a "veteran airshow performer of over 25 years" and an "Aerobatic Competency Evaluator for the air show
industry" who certified air-show performers to executive "low level aerobatics", a profile from an April Key West
airshow says about him.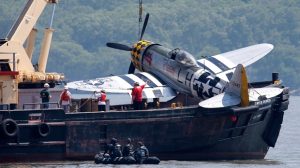 He "spent many years as the chief pilot of Old Rhinebeck Aerodrome" in Upstate New York and "has many hours in
very unstable WWII aircraft", according to Naval Air Station Key West.
The plane had been housed for 16 years at the museum, located about 40 miles from Manhattan in Farmingdale,
N.Y.
The P-47 Thunderbolt was the heaviest single-engine fighter used during World War II. And Americans built more
P-47s than any other fighter airplane in aviation history, according to the Smithsonian Air and Space Museum.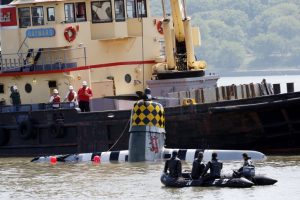 Friday's crash took place near the same site where US Airways Flight 1549 made a successful, emergency splash-
landing in 2009, referred to as the "Miracle on the Hudson".
---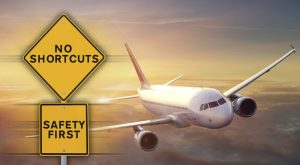 AVIATION Safety
AIM introduces free online human factors safety course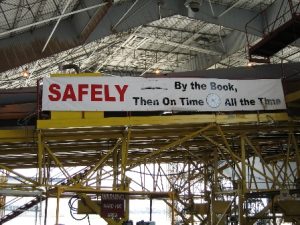 An institute known for its aviation maintenance curriculum is introducing a free online human factors course for pilots and aviation enthusiasts that it says will help increase safety awareness while mitigating aviation-related incidents and injury.
The Aviation Institute of Maintenance, headquartered in Virginia Beach, Virginia, announced May 12 that it aimed to offer "instruction and guidance on minimizing aviation risks" from "human error, oversight, fatigue, and other human-related factors" by offering the online continuing education course at no cost.
The institute, which has 11 campuses in major metro areas stretching from the East Coast to the West Coast, is also introducing a $49 certification course with additional safety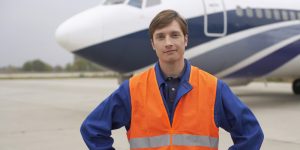 techniques that, according to a news release, will provide an "in-depth understanding of the twelve most common human-related risk factors for aviation incidents".
Safety officials sometimes refer to oversights including distraction, complacency, and fatigue as aviation's "dirty dozen". The news release said students in the certification course will use scenario-based situations to "become more aware of accidents, why they happen, and how to avoid them".
High-definition video instruction, interaction with other students, and the sharing of experienced-based safety instruction are designed to make both of the online courses feel more dynamic.
A video produced by the school said human factors "mistakes made on the job can result in the endangering of lives and cost airlines tens of thousands of dollars". While advances in technology and systems have made the aviation industry safer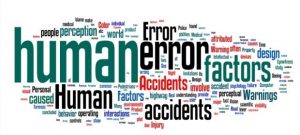 and more efficient, the video said "mistakes still occur, and the resulting damages and injuries are often caused by human error that could have been prevented".
The news release said the two new classes were examples of the institute's commitment to the aviation industry.
---

AVIATION Technology
Guardian Avionics adds to iFDR Panel Mount line
Guardian Avionics has added new flush panel mount models for the Apple iPad Air/iPad Pro model (9.7 inches) and the Apple iPhone 6+ to the new iFDR Panel Mount line unveiled in April.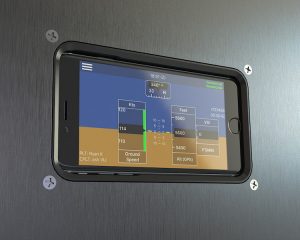 The iFDR line already includes mounts for the Apple iPad Pro (12.9 inches), the Apple iPad Mini, and the Apple iPhone 6. With the addition of the two new mounts to the line, Guardian Avionics has a flush mounting solution for every current iPad and iPhone product on the market, company officials note.
Since their introduction at SUN 'n FUN in April, the iFDR Panel Mounts have been well received by pilots, owners, and builders of both experimental and certified aircraft, company officials noted.
iFDR-panel-mount-series copyThe panel mounts create a clean position for the iPhone or iPad in the instrument panel, allowing the tablets and phones to be docked and removed in just seconds – with connection to power, data, and audio integrated right into the mount.
Designed by general aviation engineers at Guardian Avionics, iFDR Panel Mounts are made of ABS plastic for long-term
durability and resistance to temperature fluctuations. Each mount features a spring-loaded receiver for the iPad or iPhone that allow it to hold securely in the mount and absorb the vibrations in flight while allowing the iPad or iPhone to be docked and removed in seconds.
Each model has port positions for the Apple MFi Certified Lightning cable and 3.5mm audio cable (cables sold separately) to allow inflight power, as well as connectivity to external GPS, engine management, and audio products installed in the aircraft.
Each unit features cooling channels in the mount and a 5/8-inch hose port to connect the unit to a standard avionics fan, preventing over-temperature shutdowns of connected iPads and iPhones – a condition that's even more important as the hot summer flying season approaches, company officials said.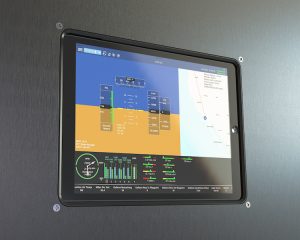 Deliveries of the iFDR Panel Mount for the iPad Air/ iPad Pro (9.7 inch) will begin on June 1, with an introductory price of $199. Deliveries of the iFDR Panel Mount for iPhone 6+ will begin on July 1, with an introductory price of $124. The iFDR Panel Mount for iPhone 6 is currently available for $99; the iFDR Panel Mount for iPad Mini is currently available for $149; and the iFDR Panel Mount for iPad Pro (12.9-inch) is available for $249 through Guardian Avionics, dealers, and distributors.
---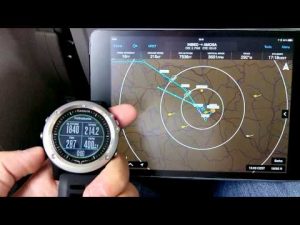 AVIATION Technology
Garmin introduces D2 Bravo Titanium aviator watch
Garmin has introduced the D2 Bravo Titanium, an aviation GPS smartwatch.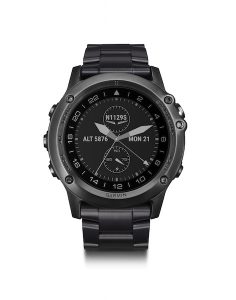 Utilizing premium materials like a hybrid titanium band and gunmetal bezel, sapphire lens and high-resolution color display, D2 Bravo Titanium combines GPS wearable technology with multisport activity profiles like golf and advanced fitness training.
It incorporates Garmin Elevate wrist-based heart rate technology allowing customers to measure heart rate 24/7.
Automated flight logging, the display of Terminal Aerodrome Forecasts (TAFs) and an aviation-tailored customizable watch face that allows customers to input the tail number of their aircraft add to D2 Bravo Titanium feature set.
D2 Bravo Titanium incorporates a worldwide airport database and support for up to 18 languages. When paired with a compatible smartphone, pilots can view aviation weather reports (METARs) and TAFs in plain language, which are color-coded to indicate visual or instrument meteorological conditions (IMC).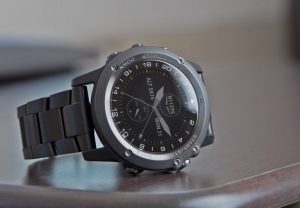 It also features the option to create flight plans and includes both an altimeter with an adjustable barometric setting and a compass with an HSI and moving map. Dedicated direct-to and nearest buttons along the side of the bezel allow for immediate navigation commands.
Similar to Garmin portables, customizable data fields include Estimated Time Enroute (ETE), Estimated Time of Arrival (ETA) and more, company officials note.
D2 Bravo Titanium provides a preset oxygen reminder based on barometric altitude when operating at or above 12,500 feet, serving as a back-up cabin pressure monitor in pressurized aircraft. Pilot-selectable altitude alerting also notifies pilots when they reach or leave a preselected altitude.
Additionally, D2 Bravo Titanium provides the option to set up supplementary vibrating alerts to serve as a reminder to perform time-sensitive operations, such as switching fuel tanks in-flight.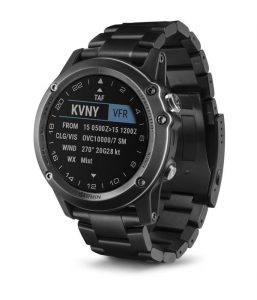 D2 Bravo Titanium also integrates with other Garmin products, including VIRB XE, which allows customers to start and stop video, view elapsed time for active video recording and capture still photos.
Suggested retail price is $899.
---
AVIATION training
Going fast on less gas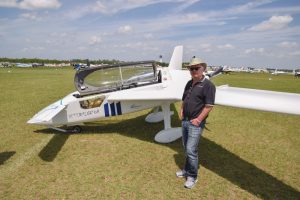 Would anyone be interested in a 250-horsepower aircraft capable of crossing the continent in just over eight hours at an average speed of 252 miles per hour while using only 61 gallons of aviation fuel, about 40 miles per gallon in cruise?
That's what California aviator Klaus Savier did the day before SUN 'n FUN started in Lakeland, Florida, in the Long-EZ he built and modified for both economy and speed.
Savier, who heads Light Speed Engineering, maker of the Plasma III aircraft ignition system, said his EZ, powered by a highly modified Lycoming O-360 engine, lifted off from his home base of Santa Paula, Calif., early Monday and landed 8.7 hours later at an airpark not far from the grounds of SUN 'n FUN.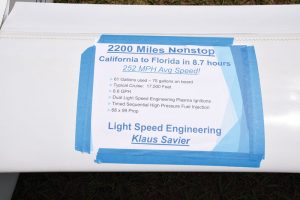 Savier is noted both for his ignition development as head of Light Speed, and as an accomplished racer. He holds three world records with his aircraft and has won a number of speed and efficiency races since 1985.
His Long-EZ is his latest flying test aircraft for speed and economy work. His first homebuilt aircraft, a VariEze, was named the Delaminator, while the Long EZ is the Determinator.
The first flight was not until 2010. Now it has about 500 hours on it.
He noted the aircraft has a 27-foot wing span, weighs 920 pounds empty and has a maximum climb rate between 2,500 and 3,000 feet per minute depending on the propeller type.
Savier arrived in Florida from California with approximately 13 gallons of fuel remaining.
The trip would have been quicker, he added, but he had to go around several restricted areas, including White Sands in New Mexico and an area of northern Florida.
Overall fuel consumption for the 2,200 miles was 61 gallons or about 36 miles per gallon, including taxi and climb fuel consumption.
Savier, who said he had no formal instruction in either electronics or engineering, taught himself by trial and error over a number of years after coming to the US in 1976 from Germany.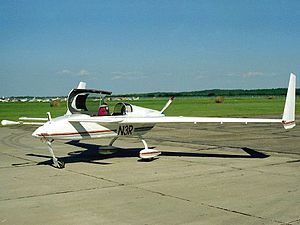 He has marketed his Plasma III ignition systems for nearly 30 years and has more than 8,000 customers worldwide.
Savier, who earned his private pilot's license in 1983 and now has about 5,000 hours in his logbook, noted that his focus has always been on efficient cross country travel.
---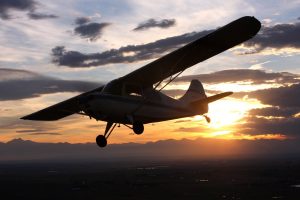 Great AVIATION Quotes
"I fly because it releases my mind from the tyranny of petty things…"
Antoine de Saint-Exupéry – writer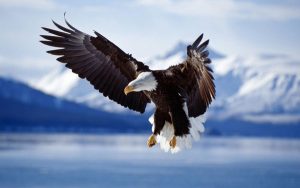 ---
UAV NEWS
FAA releases drone registration location data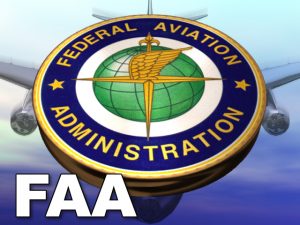 The FAA has posted a large database showing the city, state and zip code of each registered drone owner.
Release of the database responds to a number of Freedom of Information Act (FOIA) requests submitted since the new unmanned aircraft registration system began operating on Dec. 21, 2015, according to FAA officials.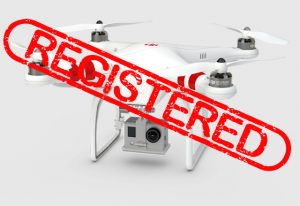 The FAA is not posting the names and street addresses of registered owners because the data is exempt from disclosure under a FOIA exemption that protects information in agency files from a clearly unwarranted invasion of personal privacy, officials noted.
The FAA based its determination to post only city, state and zip code on several factors, including, in part, that many of the registrants are minors and only hobbyists or recreational users.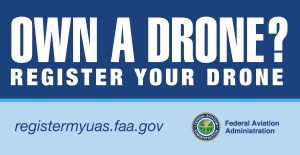 In addition, when the FAA published its Federal Register notice pertaining to the new unmanned aircraft registration system it specifically advised the public that name and addresses would only be available by the registration number issued to the registrant. For these reasons, the FAA believes the privacy interest in such data outweighs any public interest, officials said.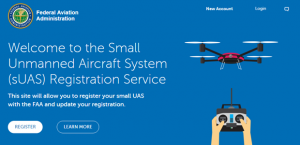 Anyone who owns a drone weighing more than 0.55 pounds but less than 55 pounds must register before flying the aircraft outdoors for hobby or recreation. All owners of small unmanned aircraft used for other purposes must also register as one of the requirements associated with a Section 333 exemption.
---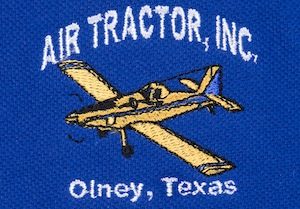 UAV's NEWS
Air Tractor® Makes Entry into the UAS Market
Air Tractor, Inc. is proud to announce its expansion into the field of unmanned aerial systems. The recent acquisition of Hangar 78 UAV, and its flagship aircraft, the Yield Defender unmanned aerial system (UAS) will create the foundation of Air Tractor's development and visionary integration of unmanned technology to complement its core agricultural and firefighting aircraft lines.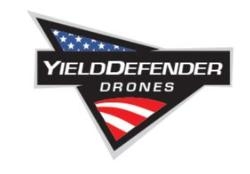 "We have done our research, and it's clear that aggressively investing and further developing unmanned aerial systems into agriculture will enable Air Tractor to remain an industry leader and provide the latest technology to ag producers as UAS capabilities mature and are integrated into the industry", said Jim Hirsch, President of Air Tractor.
In tandem with the purchase, former Hangar 78UAV Managing Partner, Wes Hall has been appointed to Vice President of UAS Technologies to lead integration and further development for Yield Defender.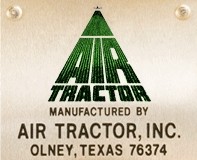 "We are very passionate about the vision and extremely proud to join the Air Tractor family", said Wes Hall, VP of UAS Technologies. "This acquisition allows us to widen our engineering expertise, reach global markets, offer cutting edge technology, and expand our customer support solutions".
Yield Defender offers true turnkey solutions spanning multiple disciplines to provide customers product, service and data processing in the UAS sector. The Yield Defender provides immediate solutions and implementation of a broad spectrum of UAS capabilities to include, but not limited to mapping, analysis, and thermal imaging.
https://www.faa.gov/uas/model_aircraft/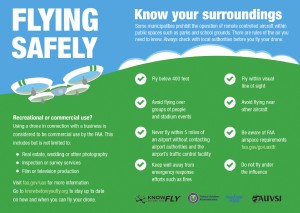 ---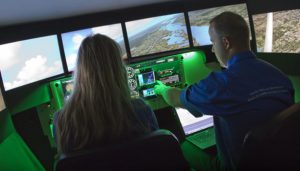 AVIATION Training
FAA Proposes New Pilot Certification and Training Rules
New rules proposed by the FAA could soon improve pilot certification and flight training in general aviation.
The agency's recently published notice of proposed rulemaking (NPRM) mainly addresses Part 61, which governs the certification of pilots, flight instructors and ground instructors at smaller flight schools.
Proposed rule changes would allow pilots to complete more of their instrument training on aviation training devices (ATDs) and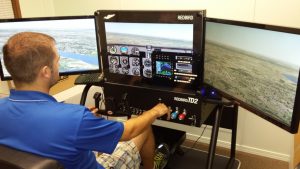 reduce the number of tasks pilots must perform to meet recency requirements in an ATD.
Under the proposed rules, applicants for commercial pilot certificates would be able to use a wider range of new technically advanced airplanes instead of older complex or turbine-powered airplanes for training.
The NPRM would also affect sport pilots planning to earn a higher certificate level. Pilots could put their hours spent on sport pilot training toward experience requirements for a Recreational or Private Pilot certificate.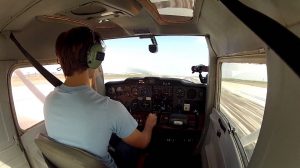 Some of the FAA's rule changes are in response to a petition by AOPA and other aviation groups in favor of facilitating the training process for pilots.
---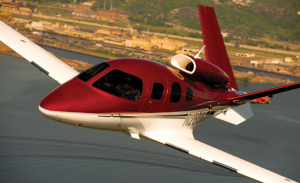 AVIATION News
Production Cirrus Jet Flies
Cirrus has flown the first production Vision SF50 jet.
Cirrus spokesman Ben Kowalski said the aircraft flew May 5 and performed as expected. "It demonstrated that we have implemented out a repeatable process on our production line and are prepared to begin initial production of the Vision Jet", Kowalski said.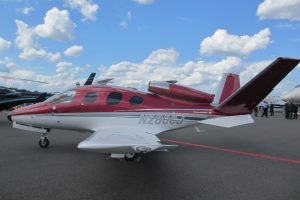 Production of the aircraft began more than a year ago and Kowalski said the company took its time to finish the plane as it refined processes. "We planned to take the right amount of time to deliver the right aircraft to our customers", he said.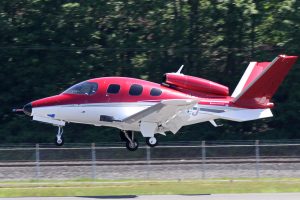 Cirrus has said it hoped to have type certification on the jet by the end of June. Kowalski said there are more aircraft on the production line and deliveries will begin shortly after certification. Cirrus has deposits for 600 aircraft, which has been under development since 2008.
Kowalski also said that testing of its whole airframe parachute system is ongoing and has included drop tests using the full airframe. The FAA has determined Cirrus does not have to deploy the system in flight to certify the aircraft but Cirrus has not said whether it plans an in-flight test with an aircraft under its own power or not.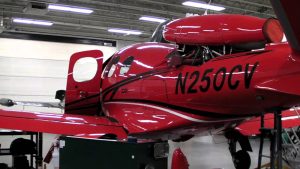 ---
Love AVIATION!
Young aviator plans Cessna 170B flight to all 50 states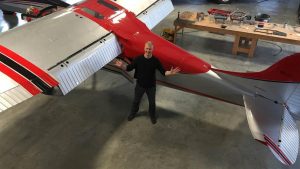 Aviation mechanic and 21-year-old student pilot Kyle Fosso of Anacortes, Washington, recently ramped up his social media presence to let people know that his six-year restoration of a vintage 1954 Cessna 170B was nearing completion and that he has big plans for the airplane after it gets airborne again.
Kyle Fosso bought a rusted out Cessna 170B when he was 15 and earned his A&P certificate while he restored the aircraft. Fosso plans to fly to all 50 states and produce videos championing general aviation's benefits.
The silver, red, and black taildragger sports a newly rebuilt 180-horsepower Lycoming IO-360 to replace the factory's six-cylinder 145-hp Continental. A pair of Cessna 175 wings holds additional fuel to keep the slightly thirstier engine happy.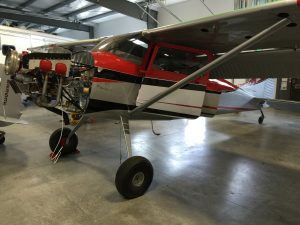 Fosso said he became "addicted to flying at age 14" and began the ambitious Cessna project when he was 15. He learned the intricacies of aviation maintenance from mentor and IA Mac McGugan, who Fosso said, "taught me everything I know".
The aircraft itself came with a bit of a story too. It was totaled in a 1972 water-crash in Alaska shortly after takeoff. Five of the aircraft's original skins survived, along with most of its original structure. Fosso said N2771C was stored for 40 years until the teenager picked it up for $12,000, his entire life savings at the time and money that he earned from three seasons of commercial fishing in Bristol Bay, Alaska.
During high school, Fosso spent nearly every day at the airport. He traded his elbow grease with "Mac" so he could fund hangar space for the Cessna and flight lessons for himself. Fosso soloed at age 16 while some of his high school classmates spent their free time partying.
The young man pushed himself hard and wasn't shy about the consequences. "I own this plane… and if I mess up it's my fault", Fosso said during a video interview taped when he was a sophomore in high school.
The restoration has taken six years, but nearly every piece of the aircraft he calls 71Charlie has been meticulously cleaned, replaced, or reconstructed. Along the way Fosso learned so much about aviation maintenance that he earned his A&P certificate and "finished college seven quarters early".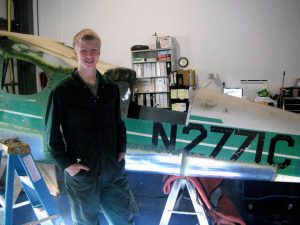 Now Fosso wants to share his love of airplanes with the rest of the world. Once the restoration is complete and he has the funds for fuel and expenses in the bank, Fosso plans to fly 71Charlie to all 50 states to encourage young people to understand what aviation is all about.
The young aviator doesn't have to look far for an interesting aviation destination. With the thirty-fifth anniversary of the volcanic eruption of Mount St Helens recently making the evening news, Fosso remembered that pilots have a unique vantage point of the once-dormant volcano. General aviation aircraft can fly "right into the crater at Mount St Helens", said Fosso. "You can look around there and for 270-degrees there's just this wall and its insanely wide. It's huge".
Flying to the 48 continental states was a logistical challenge in itself but adding Alaska and Hawaii elevated Fosso's proposed 50-state trip to another level. He said crossing through Canada for Alaska wouldn't be too difficult and Fosso already had plans in place to accomplish the hop north. However, he said he was still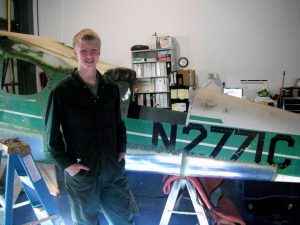 working the kinks out of barging the Cessna across the Pacific Ocean so he could fly 71Charlie around the Hawaiian Islands.
Fosso said he wasn't "building an airplane to blast to the sunsets or anything" but has instead focused on trying to encourage more people to embrace his love of aviation.
---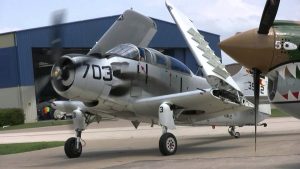 CRAZY about AVIATION!
And incredible display of Warbirds! Warbirds Over Addison – Cavanaugh Flight Museum, Addison, Texas
For all that didn't attended the "Warbirds Over Addison" Aviation Event at Cavanaugh Flight Museum, Addison, Texas.
Cavanaugh Flight Museum is home to the largest collection of flying historic and military aircraft in the Southwest.
http://www.funplacestofly.com/
---
TRAINING Tip: The 12.5 second gap?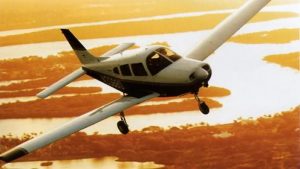 It's the first sunny day this week, and it was a stroke of good fortune to get in an early-morning practice session when another student had to cancel on short notice. Good thing you asked the fixed base operator to put you on a call list for such opportunities.
Now as you fly back toward the airport, the pattern is full of aircraft coming and going from the field, along with those in closed traffic, so you will have to wait for a chance to broadcast your impending arrival on the common traffic advisory frequency.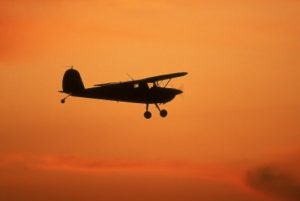 A dark speck in motion ahead and at low altitude catches your eye. Yes, it's an airplane, and it appears to be approaching head-on, while climbing. Instantly you decide to alter course—in which direction, left or right, to comply with right-of-way regulations?—and as the opposing aircraft passes, you are glad you acted as swiftly as you did.
Or did you?
"Research has shown that the average person has a reaction time of 12.5 seconds", notes FAA Advisory Circular AC 90-48D, Pilots' Role in Collision Avoidance. An updated edition of the advisory circular was released in April, replacing a 1983 issue.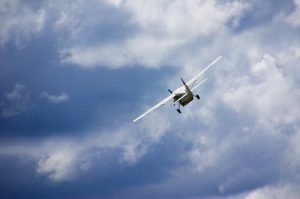 If that seems like a long collision avoidance reaction time, study the chart on page 2. It breaks the identification-and-reaction process down to six steps, with one step, the pilot becoming aware of the collision course, costing five seconds.
According to the advisory circular, there were 42 midair collisions in the United States from January 2009 to December 2013, and 461 near-midairs. That's why your instructor (and your designated pilot examiner) emphasize collision-avoidance awareness—and they don't want to see you defaulting that piloting responsibility to any on-board technology.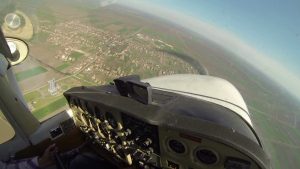 "Traffic information equipment does not relieve a pilot's responsibility to see and avoid other aircraft", it says.
"Managing distractions caused by the use of technology in the cockpit is critical to the safety of the flight. While new aircraft systems can provide pilots with a wealth of information, they can also cause fixation on the displays and draw a pilot's attention inside the cockpit and away from the outside environment. Any newly installed technology and its limitations should be thoroughly learned and understood on the ground first as much as possible. For all pilots using advanced technologies in the cockpit, extra vigilance is required to avoid excessive heads-down time", it continues.
---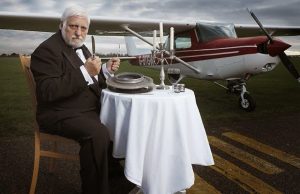 15 awesome aviation facts
The mere fact that a machine weighing a couple of tons can be airborne for extended periods of time is awesome. But there's a whole lot more…
01. Man set a record for eating an entire plane
Yes, we kid you not, some individual actually ate an entire plane. Michel Lotito first started off with things like light bulbs, razor bla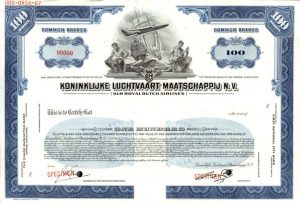 des, glass bottles and broccoli before he attempted this weird record. His peculiar penchant for chewing on all things hard and crusty eventually whittled his teeth down to tiny stumps but that did not stop him. In the 1990's, he spent two years eating his way through a Cessna 150. Admittedly he first had to break it up using various methods such as a sledgehammer, acetylene torch, and bottle cutter but he reportedly bit off pieces of glass parts directly from the plane in a move to keep it real. Lotito eventually died at the age of 57, due to natural causes though.
02. Word dexterity
Did you know Stewardess is the longest word in the English language typed with just the left hand on a desktop keyboard? You just tried it didn't you!?
03. Lost baggage
BA lost the luggage of an average of nine passengers on every jumbo jet flight in the first half of 2008, according to a study done by the Association of European Airlines.
04. Higher sense of taste
German airline Lufthansa commissioned a study to find out why people prefer to drink tomato juice up in the air, when usually they wouldn't. Yes, ground-breaking stuff. The study does however offer insight into our perception of flavours at high altitudes. Air pressure conditions in planes reduce our ability to taste properly. Salt and sugar all taste weaker when in the air while our smell and taste detection thresholds are higher under lower pressure on the ground. The findings helped Lufthansa improve their inflight meal offerings.
05. More food for thought
Air plane food is not the most interesting part of air travel that's for sure but it is an essential part of the flight for some. Even more so for pilots apparently. While people have in fact found the odd maggot in their meal, airports do remain extremely strict on food regulations and safety. Although the pre-made meals are regarded safe, food related illness remains a universal risk. For this reason, most airlines have their pilots eat different meals. It minimizes the threat of illness, ensuring the safety of at least one pilot! But we can't guarantee what happens when the pilots fall asleep.
06. What's in a name?
Do you know what KLM stands for? Koninklijke Luchtvaart Maatschappij NV (Royal Aviation Company) to be exact. It also happens to be the worlds' oldest airline, established in 1919, with its maiden voyage taking flight in 1920 betwe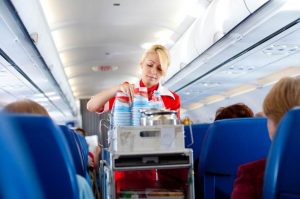 en Amsterdam and London. As for the second oldest? It's Qantas (Originally an acronym for Queensland and Northern Territory Aerial Services), which was formed in 1920 and has the best safety record with no fatal crashes in their history.
07. Most expensive ticket
The world's most expensive plane ticket cost Sydney millionaire Julian Hayward, an amazing $123 000, after being the first person to buy a seat on the A380 maiden flight between Singapore and Sydney in 2007.
08. First flight attendants
United hired the first female flight attendant in 1930. Ellen Church, a 25-year-old registered nurse made history and in turn started a trend of female nurses working on airplanes, completely replacing men by 1936. Requirements for the job back then included weighing no more than 115 pounds (52kg), being a nurse and un-married. Interestingly enough, Heinrich Kubis was Germany's and the world's first flight attendant, in 1912. These days the job requirements may have eased slightly for both males and females, but tattoos are apparently a no-no.
09. Fuel efficiency
There are approximately 200,000 flights every day around the world. 70% of aircraft in service today are over 70% more fuel-efficient per seat kilometre, than the first jets in the 1960s. Here's to greener skies.
10. Mile-high virginity escapade
Catarina Migliorini of Brazil auctioned off her virginity for $780 000 to a Japanese man only known as Natsu. To avoid any legal problems, the one-hour session with the girl took place on an airplane flying over international waters. Migliorini is believed to have donated a portion of her payment to charities building homes for the poor in her native state in Brazil. So romantic and packed with philanthropic intentions.
11. Extreme avoidance of baggage charges
New airline fees are always cropping up. One man preparing to board a flight to Nairobi, Kenya from China's Guangzhou Baiyun International Airport went to unusual lengths to avoid paying an airline's extra baggage charge. When told of his overweight luggage dilemma, the unidentified man reportedly removed 70 items of clothing (including 60 shirts and nine pairs of jeans) from his case and proceeded to put it. But his woes did not end there. He avoided paying extra only to be pulled up at the metal detector where he was forced to undergo a full body search.
12. Is age nothing but a number?
The average age of commercial aircraft is reportedly 19 years, which seems a bit old to us?
13. Load up on the water
An air traveller can lose approximately 1.5 litres of water from the body during a 3 hour flight.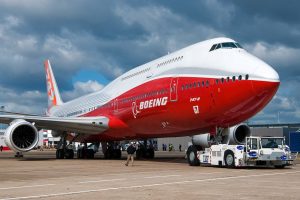 14. Trendsetter
The internet and on-line check-in was first used by Alaska Airlines in 1999.
15. To the moon and back
The Boeing 747 (all versions) has travelled an estimated 35 billion statute miles that is the equivalent of 75 000 trips to the moon and back – 75 000 also happens to be the number of engineer drawings it took to build the first Boeing 747-100.
---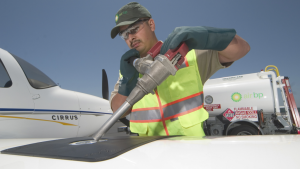 TIP of the week: Tips to ground an aircraft while refueling
Lately, we have received a number of questions concerning grounding or bonding an aircraft during the refueling process.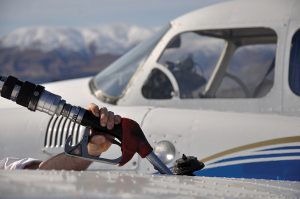 The reason for using a bonding strap during refueling is that when an electrically, non-conductive fluid like Jet A or 100LL is transferred, these liquids build up static electricity that can arc and cause a fire if not dissipated.
This is like how your body can build up static electricity when you walk across a carpeted floor and then arc when you touch a grounded item.
In the past, we called it grounding and we connected a jumper cable from a ground post to the plane and to the refueler.
But the airlines found that having a ground cable connected to a large airplane in a storm can lead to "electrical" and other problems.
So now the standards call for only one cable connecting the plane to the refueling vehicle. This ensures that the plane and the refueler are at the same electrical potential when the hose is placed in the filler neck and during the refueling process. This is called bonding, as opposed to the old grounding.
One of the problems with this process is that most refuelers use a cable retracting reel for the cable. The contacts in the reel can become corroded and not have electrical conductivity. That's why they need to be checked with an ohmmeter every month.
Another problem is where to connect a bonding cable on your aircraft.
Some say to connect it to the exhaust stack. This may be OK, but some owners do not like their chrome stacks all scratched up.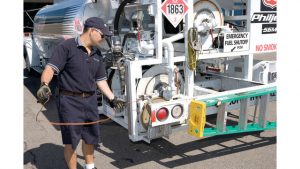 Others say to bond to the landing gear or front strut.
The problem is that a bonding location should be identified on all new aircraft. But none of the manufacturers are willing to do that.
What we suggest is that, if you own an aircraft, go out with an ohmmeter and check to ensure that a chosen location on the plane does have electrical conductivity to your fuel filler neck. (Do not check conductivity with an open filler cap.)
Now you need to identify your chosen point with a label that is visible for the average FBO employee. This process is especially important for composite aircraft.
Another question concerns plastic fuel cans and how to ground them. There is no great answer here.
If you pour fuel from a metal container into an aircraft, the static charge can build up in the fuel and get transferred to the metal container. This charge can then jump a gap between the can and the plane and cause a fire. The transfer of just five gallons of fuel can build up a charge great enough to jump over half an inch under many conditions.
But with a plastic container, the static charge cannot build up on the container wall, so there may not be a problem as the charge will dissipate once in the tank.
However, if you are using a metal funnel, then you should bond the funnel to the plane.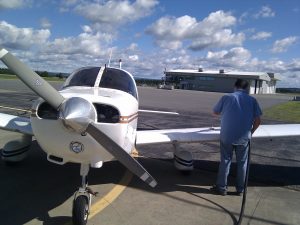 In the past, we have read articles that recommended placing a metal strip into the plastic can before pouring and bond this to the plane.
We are not sure this is necessary and are looking for examples of static electricity accidents with plastic containers. We have not found any problems, but will continue to look.
---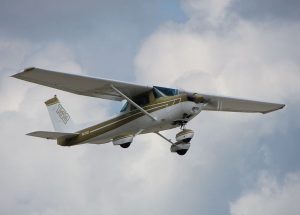 PILOT Stories
Let's hear it for the team
The act of aviating is often a solitary endeavor. Or at least it appears to be.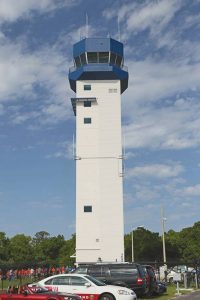 In truth, there are many hands that go into making a safe flight happen. Certainly the pilot plays a pivotal role, but there are mechanics, and line-service personnel, parts manufacturers, administrators, and so many others who play a role.
A recent flight to meet an old friend for lunch really brought this into focus for me — in the best possible way.
I departed my home base and headed southwest for a landing at Lakeland Linder Regional Airport (KLAL), in the heart of central Florida.
Hallback's Bar and Grill was the ultimate destination, where the BLTs have extra B, and everything on the menu makes my taste buds sing. Being able to grab a booth by the window overlooking the ramp is a pretty good draw, too. So off I went, happy as could be, for a short but very enlightening flight.
"Lakeland, Cessna 152UF, 12 miles northeast, inbound with Mike, full stop". Everything was going beautifully and the scenery was as green and lush as it ever was.
"152UF report 3 mile final for Runway 27", came the reply. I read back the clearance and continued on my merry way, only minutes from landing.
The next radio call on the frequency was less productive. To be honest, it was little more than a blast of static, unreadable and somewhat irritating.
I'm guessing the aircraft's radio transmissions had been problematic, but somewhat more clear earlier, because the tower called back with an N number to let the caller know the transmission was unreadable.
Another blast of static filled my headset. Another response from the tower, but this one included an assumption on the part of the tower controller. To paraphrase the call, I heard, "N12345, unreadable, but go ahead and enter a left downwind for Runway 27, you're number 3 behind a Cessna on long final and a low-wing on downwind".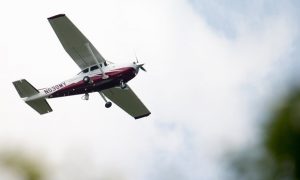 The response was another blast of static, which the controller reported as unreadable, again.
I flew on, ever closer to the point where I'd make a position report. The issue with the radio didn't bother me at all. In fact, it had nothing to do with me. I was aware of it, but I was flying solo in another airplane. I'd made good contact with the tower. My flight was going along fine.
What more was there to think about?
Then the story got interesting. The tower made a call to the errant radio owner: "N12345, it looks like you're approaching Plant City Airport [8 miles to the west]. Did you want to land at Lakeland?".
An unreadable radio call was the response.
"N12345, unreadable. Ident if you want to land at Lakeland".
I can only assume the pilot of the other aircraft pushed the ident button, based on the content of the next call from the tower. "12345, turn to a heading of 110. That will put you on a downwind for 27 at Lakeland… no, make that 090 for a left downwind to Runway 27 at Lakeland".
I couldn't have been more interested in the unfolding storyline if it had been a drama from the Columbia Broadcasting System during the Golden Age of Radio.
The tower controller recognized a pilot headed for his field had a problem. He found a solution for that problem and relayed it in a calm, supportive manner. And suddenly, the problem disappeared.
Le''s award a big point to the Lakeland Linder tower controller. He earned it, that's for sure.
Imagine yourself as a student pilot flying toward a controlled field, only to find out your radio isn't transmitting your voice. What to do, what to do? How many of us would have thought to fly 500 feet above pattern altitude, circle the tower, and wait for light gun signals? How many of us even have a confident recollection of what those light gun signals are?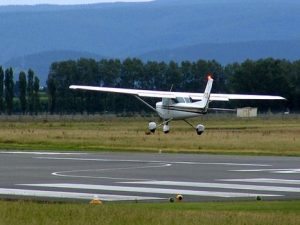 This is a great example of teamwork in action. That controller, by going out of his way to provide exceptional customer service to a pilot with a problem, may have done more than just ease the tension level in one pilot's life and get them back home with less stress.
If the plane is based in Lakeland, and I assume that it is, the flight school that owns it will be able to make repairs and get it back on the line more quickly and less expensively than would have been possible with the airplane on the ground at a distant airport, with a bewildered student at the helm.
This is a customer service business we're in, and that controller just gave us a fantastic lesson in how beneficial it can be to go the extra mile on behalf of our customers and co-workers.
Yes, we often feel like we're engaged in a solitary endeavor when we fly. Some of us even seek that solitude out, flying low and slow in Class G airspace, enjoying the view and the freedom of movement our aerial steeds allow us.
But we're only alone by choice. With a single radio call, we can be plugged back into the system and have all the support we need with the push of a button.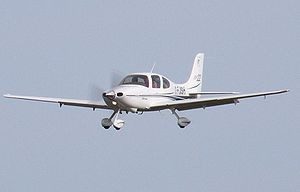 With that in mind, let's make it a special point to remember our teammates, both seen and unseen, and honor the folks who make it possible for us to fly safely, affordably, and often.
We've got a great team to work with, all of us. And that includes you, too.
Jamie Beckett for http://generalaviationnews.com/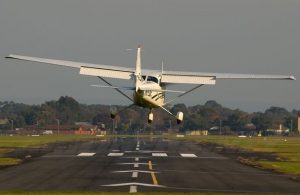 ---
PILOT Training: What is a run-up in aviation?
What is a run-up in aviation?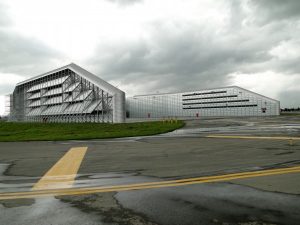 When a plane rolls off the assembly line and before delivery to the customer, aircraft manufacturers carry out a Run-up; an obligatory series of tests to verify the correct functioning of the engines.
In a dedicated area, surrounded by insulating walls providing protection against the noise of blasts of air generated by their thrust, the engines are started up for the first time.
These so-called Run-up trials last two to three days. They are designed to measure, for example, the startup and engine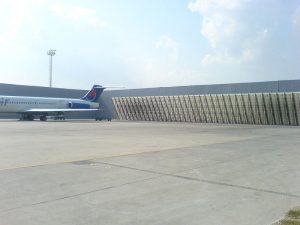 shutdown times, engine temperatures, amount of vibration and maximum power.
It is only at the end of these trials that the airplane will make its first test flight, followed by delivery to the customer.
---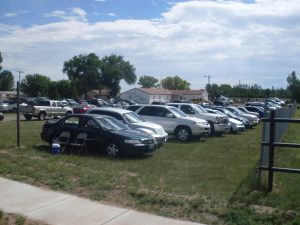 VIDEO of the WEEK: What your car is doing while you're at the airshow?
Ever wonder what your car does while you're at an air show…
---
AVIATION accidents & incidents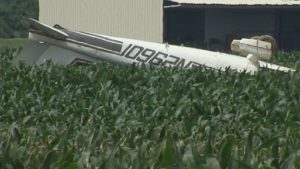 One injured in small plane crash at Pine Bluff airport
Pine Bluff (30.05.2016): At least one person was injured in a small plane crash at the Pine Bluff Regional Airport Sunday morning.
The plane was part of a Memorial Day fly-in with the Black Pilots of America Organization.
Arkansas State Police officials say two people, a woman and child, were in the plane when the crash happened.
The child was taken to an area hospital. The condition of those involved have not been released.
The FAA has been called in to investigate.
—————————————————————————–
Two dead in Santa Paula home-built-plane crash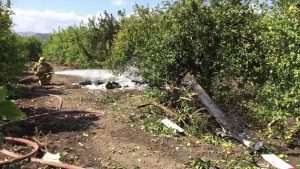 Santa Paula (29.05.2016): Two people died when an experimental aircraft crashed and burst into flames in an orchard in Santa Paula, officials said.
The crash was reported at 3:17 p.m. in the 1600 block of Aliso Canyon Road, just north of the city of Ventura. Fire officials said the plane was fully involved in flames when they arrived and two people were declared dead at the scene.
The FAA described the plane as a single-engine VariEze, a type of small homebuilt aircraft first designed by Burt Ratan in the 1970s. The agency said the plane caught fire after crashing with two people on board.
Another pilot in the area reported hearing the pilot of the experimental aircraft report engine failure and say he planned to try an emergency landing.
————————————————————————-
Another Plane Crash At PML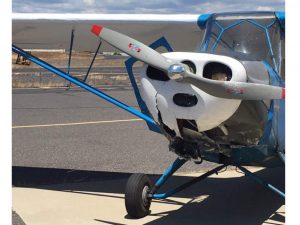 Pine Mountain Lake (27.05.2016): Tuolumne County Sheriff's Deputies were on the scene of a crash landing that left a woman pilot injured.
The crash happened just before 1:30 p.m. Friday at the Pine Mountain Lake Airport in Groveland. Sgt. Andrea Benson states the 1946 Champion Aeronca 7 AC fixed wing single engine was attempting to land when the aircraft swerved off the runway. The plane then smashed into a wall at the fuel depot. Luckily, there was no damage or rupture of the fuel tanks, according to Sgt. Benson.
The pilot, 61-year-old Charleen Beam from Groveland, suffered an ankle injury and was taken by ambulance to an area hospital for evaluation. Sgt. Benson notes that Beam told deputies that "strong cross winds caused the aircraft to veer off the runway".
The Federal Aviation Administration and the National Transportation Safety Board have been notified of the downed plane and will be investigating the accident.
This is the second plane crash at the airport in a month, as previously reported on May 10 a 1976 fixed wing single engine Beechcraft crashed just after takeoff. The pilot and passenger were not injured in that crash but one did have a cut to his hand.
---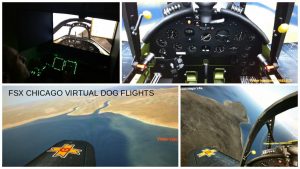 General Aviation is all about having fun! Take a look at our FUN programs and don't delay: join our Flight Center today!
VIRTUAL COMBAT – WORLD WAR II – DOG FLIGHTS!
Bring your friends and make it a night out! Call ahead for availability! 708-299-8246
Bring your combat skills and everything you know about WW2 aviation! On select nights,FSX Chicago becomes… LIVE COMBAT – AFTER DARK! A real time dog flight on virtual skies to see who is the last one standing… or should we say… flying!
Club members have priority and reduced rates! Join us today for as little as $10/month!
For groups and parties, please call 708-299-8246!