---

Aviation Events in Illinois, April 2016
Great Planes Air Expo – Presented by KCAC Aviation
Tuesday, April 26, 2016
Chicago, DuPage Airport (DPA)
DuPage Flight Center, 2700 International Drive, West Chicago, IL 60185
Event time will be 9am to 4pm, rain or shine
Pre-Register here (http://greatplanesairexpo.com/registration/)
Great Planes Air Expo – Presented by KCAC Aviation
Wednesday, April 27, 2016
Chicago, Chicago Executive Airport (PWK)
Hawthorne Global Aviation Services, 1120 South Milwaukee Ave, Wheeling, IL 60090
Event time will be 9am to 4pm, rain or shine
Pre-Register here (http://greatplanesairexpo.com/registration/)
DuPage Pilots Association Annual Spring Safety Seminar
Topic: Aviation Weather & Interpreting Satellite Imagery
On Saturday, April 23, 2016 at 09:00 Central Daylight Time
Location: DuPage Airport, 31W775 North Avenue, Mukenschnabl's Hanger, West Chicago, IL 60185
Description: Paul Merzlock – Our Featured Guest Speaker
Paul has presented many great aviation weather presentations to many pilots over the years, and he always draws a large crowd interested in better understanding the ever changing weather here in the Chicago area. His presentations will enable you to make better flying decisions and simplify those weather reports and satellite images into useful practical information.
He received his Bachelor's degree in meteorology from Northern Illinois University before attaining a Master of Science degree in Atmospheric Science, from the University of Illinois at Urbana. Paul's professional career began as a civilian instructor with the USAF, teaching military personnel subjects including radar and satellite meteorology, and atmospheric physics. Paul transferred to the National Weather Service, Chicago office in 1984, where he served as a forecaster until retiring in 2011. He also serves as an adjunct professor at Lewis University at Romeoville, IL, teaching Aviation Meteorology. Following retirement from the weather service, Paul has been a part of the weather team at WGN-TV Chicago.
We will also have Airport Updates from the DPA Airport Authority, and the DPA Tower which will review their DuPage Tower General Operating Procedures.
Free lunch will follow our guest speaker around 12 Noon.
The sponsor for this seminar is: Illinois FAASTeam
The FAA Safety Team (FAASTeam) is committed to providing equal access to this meeting/event for all participants. If you need alternative formats or services because of a disability, please communicate your request as soon as possible. Note that two weeks is usually required to arrange services.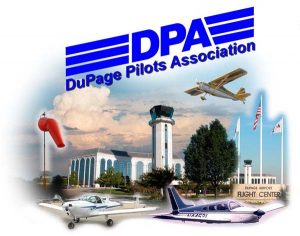 ---

If you have any aviation stories you would like to share, please send them to fsxchicago@gmail.com and we will publish them in our future editions and directly on our websites! Are you working on an interesting project? Let the community know !
Did you find something we all should know about?! Send us a quick message to fsxchicago@gmail.com.
---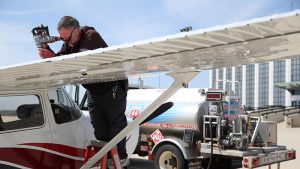 Good NEWS
New Alternative Jet Fuel Approved
The Federal Aviation Administration (FAA) has played an integral role in development, testing and recent approval of a new alternative, environmentally-friendly, bio-based jet fuel, bringing the total number of these approved products for use in air travel to five.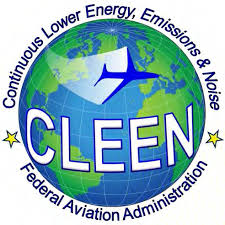 This new fuel will make air travel more sustainable environmentally and increase our national energy resources. In contrast to traditional petroleum-based fuels, these new alternative fuels can reduce air quality emissions and are renewable.
In collaboration with the aviation industry, the FAA approves new renewable jet fuel pathways through ASTM International. The FAA's Continuous Lower Energy, Emissions and Noise (CLEEN) partnership with industry was crucial in completing the necessary steps to support ASTM International approval of this new fuel, known as Alcohol to Jet Synthetic Paraffinic Kerosene (ATJ-SPK). It is created from an alcohol called isobutanol that is derived from renewable feed stocks such as sugar, corn or forest wastes.
Other previously approved fuels include:
– Synthesized Iso-parafins (SIP) which convert sugars into jet fuel;
– Hydro-processed Esters and Fatty Acids Synthetic Paraffinic Kerosene (HEFA-SPK), which use fats, oils and greases;
– Fischer-Tropsch Synthetic Paraffinic Kerosene (FT-SPK) and Fischer-Tropsch Synthetic Kerosene with Aromatics (FT-SKA). Both fuels use various sources of renewable biomass such as municipal solid waste, agricultural wastes and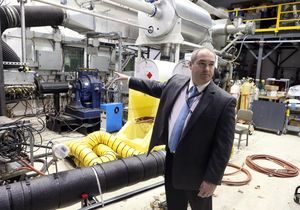 forest wastes, wood and energy crops. These fuels can also be made from fossil resources such as coal and natural gas.
These new fuels will help the aviation industry meet its climate change goal of carbon neutral growth. For example, operation with ATJ-SPK could reduce greenhouse gas emissions on a life-cycle basis by up to 85 percent.
As more alternative jet fuels are developed, these products have the potential to be increasingly viable for cost-competitive production and broad use. Another cost-saving goal and FAA focus area is a "drop-in" requirement for alternative fuels. That means the fuels can be used directly in existing aircraft without any modification to engines or other equipment while maintaining an equivalent level of safety and performance to petroleum jet fuels.
In addition to CLEEN, th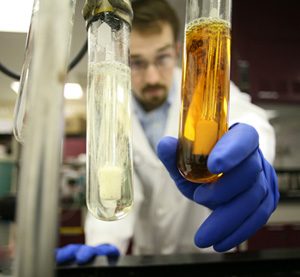 e FAA is working with industry, other government agencies and academia through the Commercial Aviation Alternative Fuels Initiative (CAAFI) and the agency's Aviation Sustainability Center (ASCENT), a consortium of research universities.
---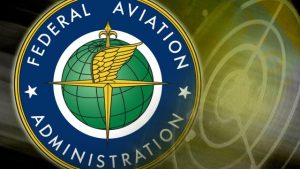 AVIATION News
FAA releases 2016 to 2036 Aerospace Forecast
The FAA has released its annual Aerospace Forecast Report Fiscal Years 2016 to 2036 that finds a sustained increase in overall air travel and the use of Unmanned Aircraft Systems (UAS).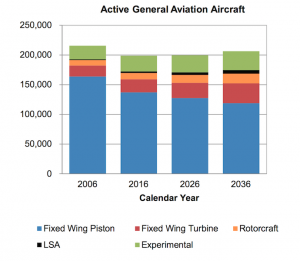 A key portion of the forecast focuses on projections for the growth in the use of unmanned aircraft, also known as drones or remotely piloted aircraft. The FAA estimates small, hobbyist UAS purchases may grow from 1.9 million in 2016 to as many as 4.3 million by 2020.
Sales of UAS for commercial purposes are expected to grow from 600,000 in 2016 to 2.7 million by 2020.
Combined total hobbyist and commercial UAS sales are expected to rise from 2.5 million in 2016 to 7 million in 2020.
Predictions for small UAS used in the commercial fleet are more difficult to develop given the dynamic, quickly-evolving nature of the market, FAA officials noted.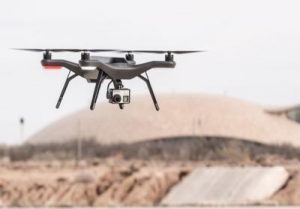 Both sales and fleet size estimates share certain assumptions about operating limitations for small UAS during the next five years: Daytime operations, within visual line of sight, and a single pilot operating only one small UAS at a time.
The main difference in the high and low end of the forecasts is differing views on how those limitations will influence the widespread use of UAS for commercial purposes.
The forecast says the the long-term outlook for general aviation, driven by turbine aircraft activity, remains favorable. The active general aviation fleet is projected to increase at an average annual rate of 0.2% over the 21-year forecast period, growing from an estimated 203,880 in 2015 to 210,695 aircraft by 2036.
The more expensive and sophisticated turbine-powered fleet (including rotorcraft) is projected to grow by 15,600 aircraft, at an average rate of 2.1% a year over the forecast period, with the turbine jet port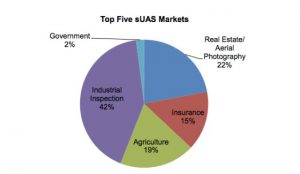 ion increasing at 2.5% a year.
While steady growth in GDP and long term corporate profits impacts continued growth of the turbine and rotorcraft fleets, the larg-est segment of the fleet, fixed wing piston aircraft, is predicted to shrink over the fore- cast period by 17,500 aircraft (at an average annual rate of 0.6%).
On the other hand, currently the smallest category, light-sport aircraft, which was created in 2005, is forecast to grow by 4.5% annually, adding about 3,900 new aircraft by 2036, nearly tripling its 2014 fleet size.
Moderate fleet growth impacts the number of general aviation hours flown, projected to increase an average of 1.2% per year through 2036.
Following the de-cline in piston fleet, fixed wing piston hours are forecast to decrease by 0.6%.
Countering this trend, hours flown by turbine aircraft (including rotorcraft) are forecast to increase 2.6% yearly over the forecast period.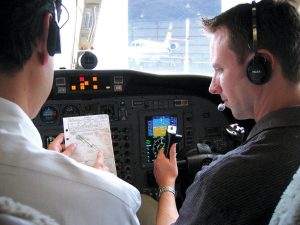 Jet aircraft are expected to account for most of the increase, with hours flown increasing at an average annual rate of 3.1% over the forecast period. The large increases in jet hours result mainly from the increasing size of the business jet fleet, along with continuing increase in utilization rates, FAA analysts say.
Lastly, the light-sport aircraft category is forecasted to see an increase of 5% a year in hours flown, primarily driven by growth in the fleet.
The FAA also conducts a forecast of pilots by certification categories, using the data compiled by the Administration's Mike Mon roney Aeronautical Center. There were 590,039 active pilots certificated by FAA at the end of 2015.
While private and com-mercial pilot categories kept their declining trends, student pilot certificates continued to increase.
Since 2011, the student pilot numbers have been rising and reached 122,729 in 2015.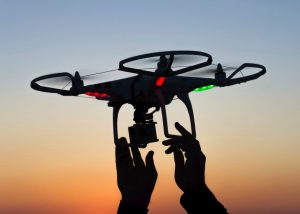 The number of active general aviation pilots (excluding ATPs) is projected to decrease about 5,000 (down 0.1% yearly) over the forecast period, while the ATP category is forecast to increase by 13,600 (up 0.4% annually).
The student pilots are forecast to increase by 0.3% and much smaller category of sport pilots are predicted to increase by 4.8% annually over the forecast period.
On the other hand, both private and commercial pilot cer- tificates are projected to decrease by 0.6% yearly until 2036.
---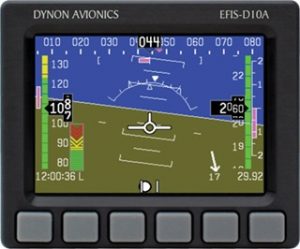 AVIATION News
EAA, Dynon announce STC for Cessna, Piper aircraft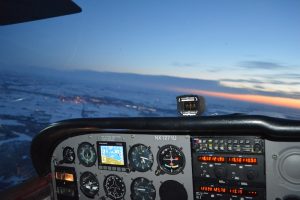 The Experimental Aircraft Association and Dynon Avionics announced April 6 that they have obtained FAA approval of a supplemental type certificate (STC) that will enable owners of certain Cessna and Piper models to install Dynon's EFIS-D10A as an attitude indicator replacement.
The STC permits installation of the EFIS-D10A without a technical standard order or parts manufacturer approval on Cessna 150, 152, and 172 models, and also on Piper PA-28 and 38 aircraft. The STC will be sold to EAA members, much in the same way as EAA sells an autogas STC. No price has been set for the new STC.
EAA President Jack Pelton said the FAA granted final approval on April 5. Calling it "one of the biggest breakthroughs" in years, Pelton said EAA and Dynon have been working aggressively with the agency to "create a roadmap" that will enable the addition of other part numbers to the STC. The organizations hope to offer STCs for other safety-enhancing equipment such as engine monitors, fuel gauges, and autopilots.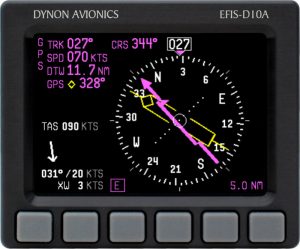 Dynon CEO Robert Hamilton said the STC will bring a lot of benefit to the GA community. More than 15,000 experimental and light sport aircraft are flying with Dynon equipment, he said, "and we hope to bring that to the GA community and do more than that. Safety doesn't help if you can't afford it".
The EFIS-D10A has a four-inch display that includes attitude, airspeed, altimeter, magnetic heading, turn rate, inclinometer, G-meter, winds, and more, according to the manufacturer. The unit contains no moving parts. Based on demand, Dynon said it would design turnkey installation kits for installers that include aircraft-specific panels and mounting equipment. A D10A without a battery retails for $2,095 from Aircraft Spruce & Specialty.
Pelton and Hamilton said the process of gaining STC approval took about five to six months. They praised the FAA for working expeditiously on the project.
"There's an attitude or recognition that GA is not growing", Pelton said. "They're seeing the (experimental amateur-built) community has grown where we're registering more (aircraft) per year than the Part 23 community".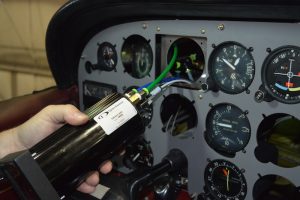 The goal is to keep people in aviation, Pelton said. The large numbers of legacy aircraft in the GA fleet are the best, lowest-cost entry to aviation, he said. Keeping those aircraft flying, and giving owners access to the latest safety equipment, is critical, he said.
Going forward, Pelton said, EAA wants to increase the number of new products that will be made available through STCs, as well as to add other manufacturers of EFIS systems. For now, the STC will be available to Cessna 150, 152, and 172 models and Piper PA-28 and PA-38 models, though the association would like feedback on other makes and models.
---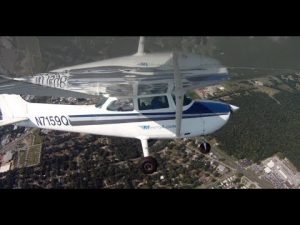 TRAINING Tips
Training Tip: Lessons from a master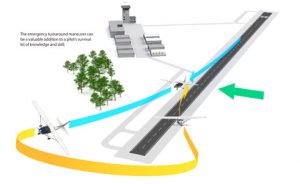 "Today's the anniversary", said Bill Page of Bethlehem, Pennsylvania, on April 6, recalling the engine failure he experienced in a Mooney M20J single-engine airplane exactly a year earlier.
Page, a 3,000-hour pilot and the holder of the FAA's prestigious Wright Brothers Master Pilot Award, had been flying for about a half hour with the aircraft's owner, practicing takeoffs and landings, when the engine stopped shortly after the fourth takeoff. The off-airport landing from an altitude of about 400 feet agl happened so fast there was no time to think about it.
"I did what training says, if there's not enough altitude (to turn back) put it down straight ahead", he said.
Page already had an idea how much altitude he would need to attempt what is called, as a result of dubious outcomes, "the impossible turn". A fortuitously recent simulator session had reinforced his estimate.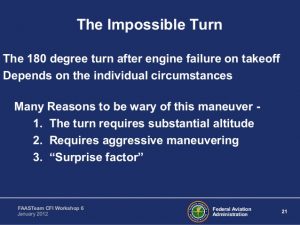 The Mooney was totaled when it hit a wire-mesh fence. But no one was injured, and on the other side of that fence lies a major interstate highway.
No probable cause was determined for the engine failure. Page, an engineer, has theories, but they are unlikely to be confirmed, a realization he finds frustrating.
Although the accident happened so fast his response seemed automatic, his reaction was based on two piloting decisions made long in advance, both of which probably kept the outcome from being much worse.
Not attempting the impossible turn from so low an altitude was one decision. The other was Page's action, with only seconds available, to continue flying the aircraft rather than distract himself with doubts about whether he or the aircraft's owner should handle the emergency.
"I had flown with him quite a bit, and we had a tacit understanding that if it's my turn to fly, I'm going to do everything", Page said.
As a student pilot, you have been instructed on how you and your instructor will handle a positive transfer of control scenario, should the CFI need to take over.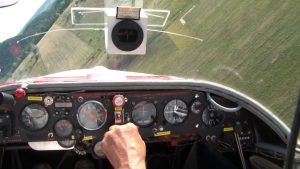 When you become a private or sport pilot, and find yourself flying socially alongside someone of similar ratings or experience, the same procedural clarity must exist in your cockpit.
So remember what happened on April 6, 2015, and agree with your fellow pilot before you fly how you will handle any emergency. Then stick to the plan, without reservations.
---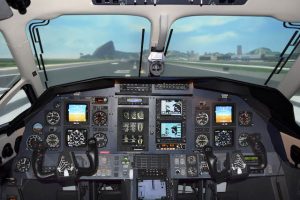 PILOT Training
FAA restores sim time for instrument rating
An FAA final rule that takes effect May 12 will make it possible, once again, for pilots training for the instrument rating to count up to 20 hours of use in an approved aviation training device (ATD) toward their time requirements.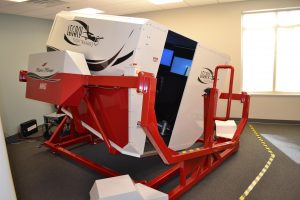 The new rule, which doubles the amount of approved ATD time currently allowed, was strongly advocated for by much of the flight training industry.
The final rule published April 12 restores the amount of approved ATD time pilots counted toward the instrument rating until early 2014, when an FAA policy statement cut the hours to 10.
In December 2014, the FAA fast-tracked a rulemaking proceeding to restore the 20-hour limit—but that process ran into procedural obstacles when two adverse comments required that the FAA withdraw the rule, which it revised and resubmitted last June.
The rule allows instrument trainees to credit a maximum of 10 hours using a basic ATD (BATD) and a maximum of 20 hours using an advanced ATD (AATD). Credit, using a combination of the two, however, may not exceed 20 hours.
Allowances have been increased for Part 141 programs as well—something that will be appreciated by schools and students alike. Students training for an instrument rating in a Part 141 program may credit no more than 40 percent of training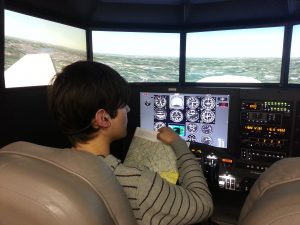 toward total time requirements in an AATD. The limit for using a BATD will increase to 25 percent of total time requirements, and the limit for the combined use of both types is 40 percent. Previously, Part 141 training time was limited to 10 percent for either type, or both combined.
The now-final rule drops a requirement for students to wear a view-limiting device when logging instrument time in an approved ATD, if the student is operating solely by reference to the instruments and the device is representing instrument meteorological conditions.
The FAA said it gave weight to comments stressing the importance of instrument-rating students being able to learn emergency procedures "using meaningful repetition" until mastery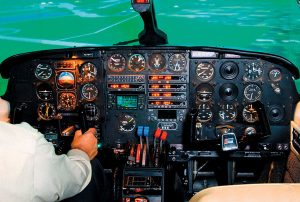 of the skills can be confirmed.
The FAA added that persons who use the new provisions "will do so only if the benefit they will accrue from their use exceeds the costs they might incur to comply". Given the high use of ATDs in the training industry, "the change in requirements is likely to be relieving".
---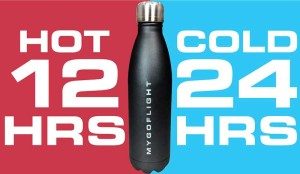 AVIATION technology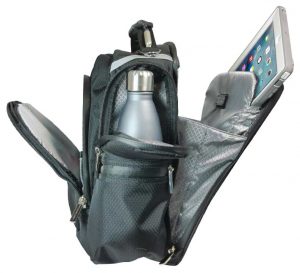 MyGoFlight extends flight bag line, adds a bottle
MyGoFlight has extended its Flight Bag PLC Series with the new "Sport" model and introduced the new MGF Bottle.
MyGoFlight Flight Bag PLC SportThe Flight Bag PLC Sport, provides a compact alternative to the company's larger flight bag, the PLC Pro.
All bags in this series stand upright to allow easy top loading and access to your gear in-flight. There is a padded storage compartment dedicated to protecting and tablet or 13-inch laptop.
It also has room for one headset, a water bottle or handheld radio and other gear. An ergonomic, air-cell padded shoulder strap is included.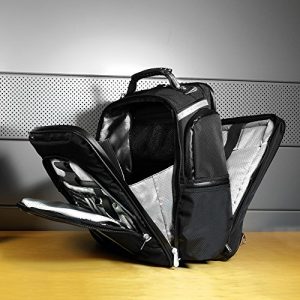 MyGoFlight – The MGF Bottle fits nicely inside your flight bag, will never sweat and is an essential accessory for all pilots seeking to remain hydrated, company officials noted.
Its double-walled stainless steel insulation system prevents sweat from forming on the exterior of the bottle and keeps liquids hot for 12 hours or cold for 24.
http://generalaviationnews.com/
---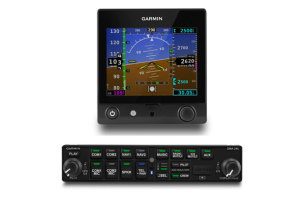 AVIATION technology
Garmin introduces GMA 245 panels for experimentals

Garmin has introduced the GMA 245 and GMA 245R, all-digital, Bluetooth audio panels designed for experimental amateur-built (EAB) and light sport aircraft (LSA).
The GMA 245 is a panel-mount audio panel, while the GMA 245R is a remote-mount audio panel, both designed to interface with the G3X Touch flight display.
These Bluetooth-enabled audio panels boast an impressive list of additional features, such as advanced auto squelch, music bass boost, advanced equalizer settings, 3D Audio processing, wireless integration with the VIRB XE action camera and more, according to company officials.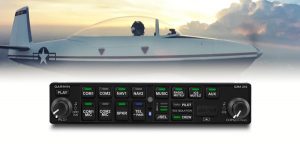 Wireless communication expands the utility of G3X Touch by allowing pilots the capability to connect a smartphone or tablet to the GMA 245/245R to easily make or receive phone calls and stream audio entertainment via Bluetooth. Incoming phone calls are annunciated by both visual and aural cues so pilots can easily make, receive or complete phone calls without diverting their attention from the flight display.
Bluetooth connectivity offered by the GMA 245/245R is extended to integrate with Garmin's HD action camera, VIRB XE. In place of a VIRB XE headset cable, the GMA 245/245R and VIRB XE connect wirelessly to allow pilots the option to overlay intercom audio and air traffic control communications while capturing high definition video. With the GMA 245/245R, pilots are offered the option of remotely mounting VIRB XE within Bluetooth range to capture HD video at the perfect angle, without concern of the camera being in reach of a headset cable.
The GMA 245/245R is rack and pin-compatible with the GMA 240, GMA 340 and third-party audio panels for experimental aircraft.
For pilots seeking a stand-alone or remote-mount solution, the GMA 245/245R offers seamless integration with G3X Touch. The GMA 245R is expected to be available in April starting at $1,199, while the GMA 245 is expected to be available in May 2016 starting at $1,325.
---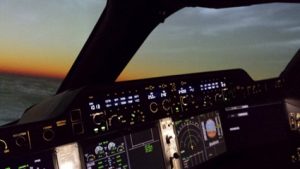 PILOT Stories: Who's Flying?
Pilot Insights: Who's Flying?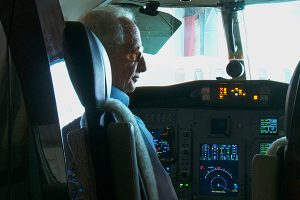 Tell me if this situation sounds familiar: You are flying with a friend in her aircraft. All is well until you set up for landing and hear ATIS is calling for some strong gusty crosswinds. Although you have more total flight time than your friend, she has a lot more experience in this particular plane. Not dissuaded by the rough winds, your friend executes a safe, albeit scary landing. After exiting the runway, you each say, "I never would have done that if I was by myself, but I figured you knew what you were doing".
Or maybe you can identify with this situation: During a flight with your buddy in the left seat, you notice that he seems engrossed in his iPad. You then realize that the plane has wandered off course and altitude a bit, so you nudge it back to wings-level. Your partner notices your action, but does not say anything. After a while, you again notice the aircraft veer off course, and you correct it a second time. A few minutes later, Center asks if you are on your requested heading and altitude, since you seem to be straying from your intended flight path and are no longer at your hemispheric altitude. After a bit of embarrassed radio conversation, the airplane is back on desired heading and altitude. The two of you then look at each other and simultaneously say, "I thought you were flying!".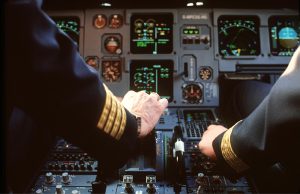 These two situations highlight the importance of determining who's really in charge during a flight. Let's start by reviewing some common misconceptions about pilot in command (PIC) time. Title 14 Code of Federal Regulations (14 CFR) section 1.1defines Pilot in Command, while section 61.51 describes who can log PIC time. According to 14 CFR section 1.1:
Pilot in command means the person who:
(1) Has final authority and responsibility for the operation and safety of the flight;
(2) Has been designated as pilot in command before or during the flight; and
(3) Holds the appropriate category, class, and type rating, if appropriate, for the conduct of the flight.
Note that nothing in this definition relates to actually manipulating the controls.
14 CFR section 61.51, on the other hand, deals with logging PIC time, and it states in part, that a person can log PIC time:
(e) (i) When the pilot is the sole manipulator of the controls of an aircraft for which the pilot is rated, or has sport pilot privileges for that category and class of aircraft, if the aircraft class rating is appropriate…
So, there is a bit of conflict between who logs PIC time, and who acts as PIC. For the purpose of this discussion, I want to concentrate on "who's in charge here?"
In both of these situations, we need to address who has "the final authority" and who has been "designated as PIC". I often think that when two pilots fly together, the topic does not come up because one or both pilots may feel embarrassed or intimidated to mention it. After all, the PIC is the person responsible to the FAA and the insurance company if something goes wrong. And secondly, when declaring who is PIC, you are agreeing that in an emergency, that person will be telling the other what to do.
Hmm. That could be touchy. Here is how I handle that. Whether I am flying with a friend I know well, or with someone I just met, we agree (on the ground) who will be in command. In our pre-flight briefing, we agree on our destination and what we plan to do while enroute. And of course we agree on who is PIC.
Then there is the question of who is actually in charge of manipulating the controls: PIC, or the non-PIC. Obviously, the person who is actually flying needs to be qualified to do so, but again, both of you need to agree on this. A conversation such as this can provide a simple solution:
– "Would you take the plane for a minute?"
– "Sure. I've got it".
– "Right. You have the plane".
Then, when you are ready to take the plane back:

– "OK, I've got the plane again".
– "Roger, you have the plane".
– "I have it".
A little communication goes a long way in preventing that, "Oh, I thought you were flying" situation.
Christopher Hope, Master CFI
---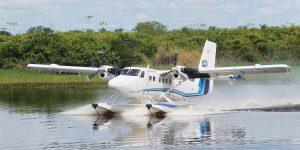 CRAZY about AVIATION
The meaning of "general aviation" explained
Even those who admit to rarely ever flying find aviation interesting. Recently, someone asked about the meaning of the phrase "general aviation".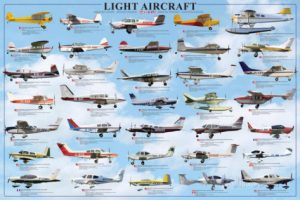 It means all aircraft except military and airlines. Here are some examples of the latter types of aircraft.
People always enjoyed seaplane flying, which they always refer to as a speedboat with wings. It offers the land pilot a new challenge and requires special knowledge for operation on and off water, and the seaplane rating.
They likewise enjoyed flying off snow and ice with skis. A Piper Cub was fun for the learning pilot during early flight experiences. Landing on snow resulted in a quick stop. Imagine a big single-engine plane able to carry passengers and cargo, frequently landing on frozen water.
Glider flying is another flight of fun. The takeoff and climb behind the tow plane is a thrill, and after release, the flight is smooth and quiet — so quiet you can hear folks talking on the ground. To hold or gain altitude, the glider pilot circles to stay in the updraft, and the landing requires good judgement and coordination.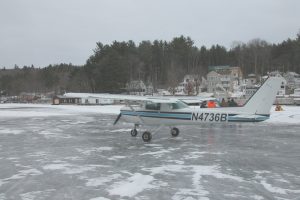 There are many other uses of the general aviation type airplane. Commercial fishing fleets use them to locate schools of fish; they are used for pipeline and power line patrol, crop dusting and spraying. They are practical aircraft for charter flights of passengers, and helpful for some types of medical flights.
The more recent Light Sport Pilot Rating has been attracting interest. There is no night flying involved, a medical exam is not required, but a US driver's license is a requirement. Some of the planes are home-built.
The more advanced pilot categories, the Private Pilot License is typically flown in a single engine aircraft. The Commercial Pilot License requires more flight hours and can be for a single or twin engine aircraft. Then there is the Flight Instructor ratings.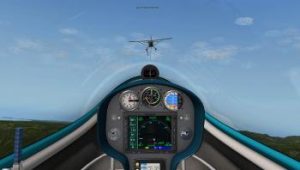 Although military trained pilots easily qualified for many of the civilian pilot ratings in general aviation, to earn them as a civilian, they must take the written exams and flight courses.
Learn to fly and enjoy the thrill of flight.
http://www.dailyitem.com/
---

AVIATION News
AAA for your plane
Sporty's has launched its new Breakdown Assistance Program for aircraft owners who need mechanical help away from home.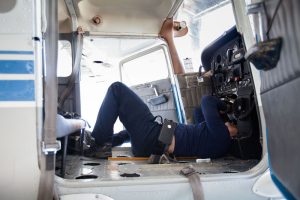 In cooperation with Mike Busch's Savvy Aircraft Maintenance Management, Sporty's Breakdown Assistance Program is a 24/7 partner for aircraft owners. With just one phone call to a toll-free hotline, an aircraft owner gains immediate access to Savvy's team of A&P/IA mechanics.
When an aircraft owner calls the Breakdown Assistance phone number, the on-duty mechanic will respond anytime, day or night, typically within 15 minutes. The A&P will assist in troubleshooting the problem and help determine whether the aircraft is safe to fly home. If it isn't, the aircraft owner will receive recommendations of nearby shops and mechanics, based on Savvy's extensive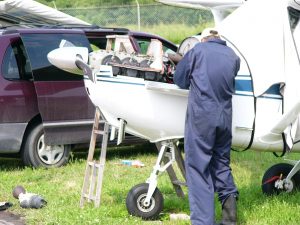 database and experience.
Once an airplane is in the shop, help from Sporty's Breakdown Assistance doesn't stop. The aircraft owner will receive help in determining the extent of repairs and obtain cost estimates and provide oversight of the service until the work is complete. Finally, the maintenance records and invoice will be reviewed on behalf of the customer.
Sporty's Breakdown Assistance Program is intended for owner-flown aircraft, and does not include routine preventive maintenance such as oil changes. For Sporty's Breakdown Assistance to be in effect, the pilot and aircraft must be more than 50 statute miles of the airplane's home base.
Sporty's Breakdown Assistance Program for single-engine piston aircraft is available for one year for $149. Sporty's Breakdown Assistance Program for multi-engine piston aircraft is available for one year for $199. Sporty's Breakdown Assistance Program for single-engine turbine aircraft is available for $249.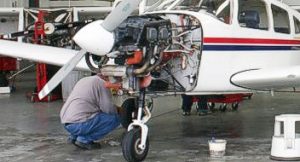 The program launches April 18 and coverage will go into effect 48 hours after the order is placed at Sportys.com or by calling 1-800-SPORTYS.
http://generalaviationnews.com/
---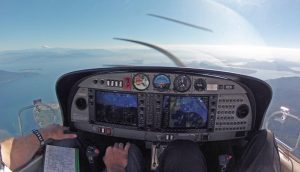 IFR Fix: Maintain VFR
(Visual flight rules (VFR) are a set of regulations under which a pilot operates an aircraft in weather conditions generally clear enough to allow the pilot to see where the aircraft is going).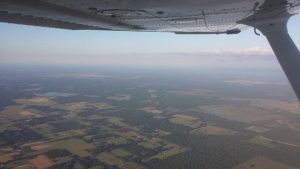 With clouds close above and a populated marina below, a pilot departing VFR in expectation of receiving an IFR clearance in short order found out the hard way that it's not a good idea to guesstimate when air traffic control can pick you up on radar after takeoff.
Until then, the clearance required the pilot to maintain VFR for the hop between two airports on Florida's east coast.
That didn't seem unduly burdensome. At the pilot's home airport, radar contact usually kicked in at 400 feet even though the airport with the radar service was a distance away. So despite marginal VFR conditions at the departure airport, the PA-28 Piper single's pilot confidently took off, turned east (seaward) as instructed, and awaited further clearance.
Climbing through 900 feet, still no radar contact. A transponder reset is tried. Not even a primary target appears.
"Remain VFR".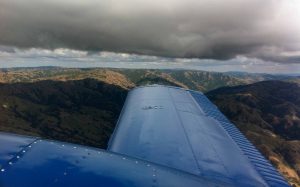 Unable to raise another nearby facility on a different frequency, the pilot accepts ATC's only remaining solution, a return to the departure airport and an IFR departure, when it can be arranged.
Thus the pilot retreated, working hard to respect cloud clearances (and not buzz the marina). Back on the ground, the pilot received an IFR departure clearance, and as so many Aviation Safety Reporting System narratives conclude, "the rest of the flight proceeded without any problems".
In the part of the report that prompts the filer for words of wisdom about the scenario shared, the pilot rated the marina an external influence that should have been disregarded. Another poor decision was accepting a "depart-VFR clearance" in marginal VFR weather.
Can good judgment be taught? It's argued both ways, but there's no argument that it can be evaluated and graded by authorities. Look no further for how to do that on your next proficiency check, or before your next flight, than the practical test standards for the instrument rating. There, in the appendices, is a tabular item titled Judgment Assessment Matrix that gives examiners a means for determining whether a pilot possesses in sufficient measure the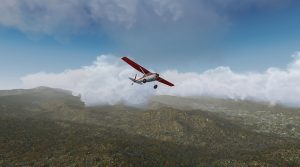 single-pilot resource management skills which, when lacking, are associated with fatal accidents.
Evaluation of a pilot's actions in eight skill areas is graded acceptable or unacceptable "given the dynamics of the flight environment". Sometimes, as this pilot's narrative suggests, the flight environment would better have remained on the ground until a takeoff-to-touchdown IFR clearance became available.
---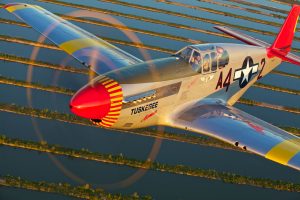 Great AVIATION Quotes
"There are airmen and there are pilots: the first being part bird whose view from aloft is normal and comfortable, a creature whose brain and muscles frequently originate movements which suggest flight; and then there are pilots who regardless of their airborne time remain earth-loving bipeds forever. When these latter unfortunates, because of one urge or another, actually make an ascension, they neither anticipate nor relish the event and they drive their machines with the same graceless labor they inflict upon the family vehicle". (Ernest K Gann)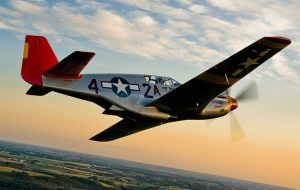 ---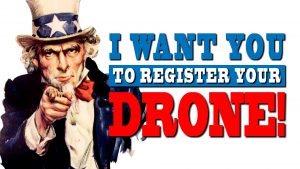 UAV NEWS
FAA Expands Online Small Unmanned Aircraft Registration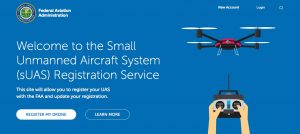 Starting March 31, owners of small unmanned aircraft systems (UAS) used for commercial, public and other non-model aircraft operations will be able to use the FAA's new, streamlined, web-based registration process to register their aircraft. The web-based process will significantly speed up registration for a variety of commercial, public use and other users. Registration for those users is $5, the same low fee that model aircraft owners pay.
"Registration is an important tool to help us educate aircraft owners and safely integrate this exciting new technology into the same airspace as other aircraft operations", said FAA Administrator Michael Huerta.
All owners of small UAS used for purposes other than as model aircraft must currently obtain a 333 exemption, a public certificate of authorization or other FAA authorization to legally operate, in addition to registering their aircraft. Before today, the FAA required all non-hobby unmanned aircraft owners to register their aircraft with the FAA's legacy aircraft registry in Oklahoma City, OK.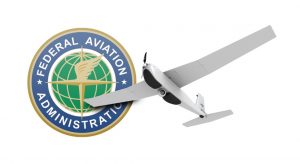 Those owners who already have registered in the legacy system do not have to re-register in the new system. However, the FAA is encouraging new owners who are registering for the first time to use the new, web-based registration system. Owners who register under the new system can easily access the records for all of the aircraft they have registered by logging into their on-line account. Small UAS owners who have registered under the web-based system who intend to use their aircraft for purposes other than as model aircraft will also need to re-register to provide aircraft specific information.
The FAA first opened up the web-based registration for model unmanned aircraft owners on December 21, 2015. The agency is expanding that existing website to accommodate owners of aircraft used for purposes other than model aircraft. This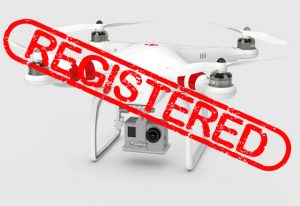 registration process includes additional information on the manufacturer, model and serial number, in addition to the owner's physical and email addresses. Like the model aircraft registration process, a certificate is good for three years, but each certificate covers only one aircraft.
http://www.faa.gov/
---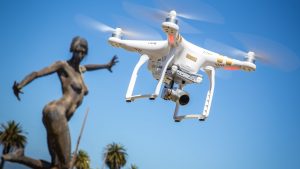 UAV NEWS
FAA, corporations & aviation groups draft new safety rules for flying drones near humans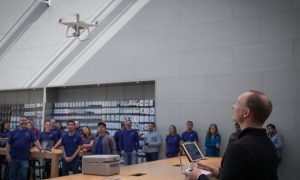 A public/private committee organized by the US Federal Aviation Administration has suggested preliminary rule changes for how close drones might fly to people, which could open up potential uses of the technology, such as air delivery.
"If it weighs less than 250 grams, or 55 pounds, you're approved, you can operate it over somebody's head", said FAA drone integration office director Earl Lawrence. Lawrence helped co-chair the committee, which had the participation of 27 drone companies and aviation groups. Currently, no drone is allowed to fly within 500 feet of another person for fear of injury.
Lawrence argued that there's less than a 1 percent chance of a drone that small seriously injuring someone. Accordingly, such craft might be allowed to fly as close as 20 feet overhead or 10 feet to the side as they take off and land.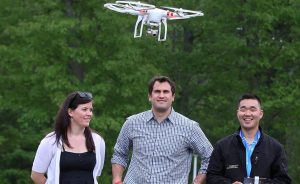 The committee suggested that weightier drones might also fly overhead, but only after their makers submit their drones to crash tests, and supply a safety affidavit to the FAA. Companies would have to prove that a craft has less than a 1 percent chance of serious injury.
Corporations participating in the committee included DJI, GoogleX, GoPro, and 3D Robotics.
Before being adopted, the committee's proposals must still pass FAA scrutiny, and as well as a period of public commentary. The group was also split on whether drone operators should have to pass an on-site test and government background check, or simply an online test, though the majority backed the latter option.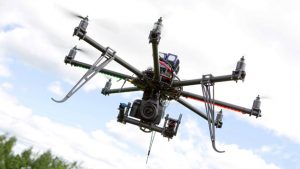 Some of the best-known drones might still be obligated to stay well away from humans. DJI's Phantom 4, for example, weighs 3 pounds and can travel as fast as 45 miles per hour.
http://appleinsider.com/


https://www.faa.gov/uas/model_aircraft/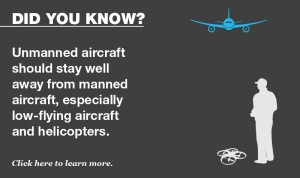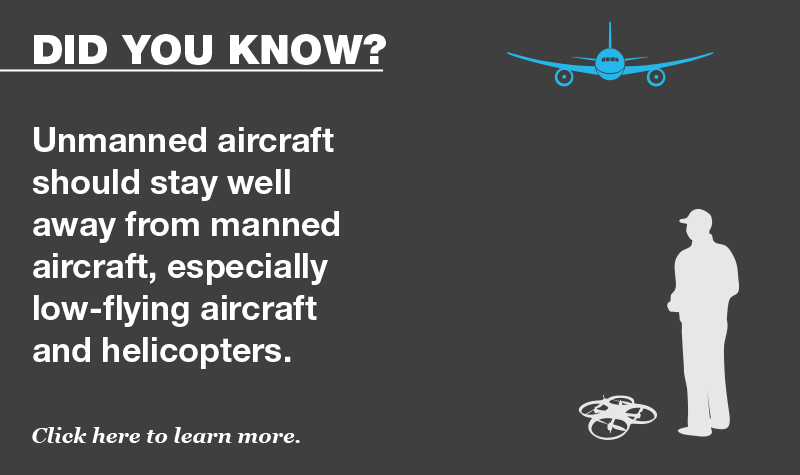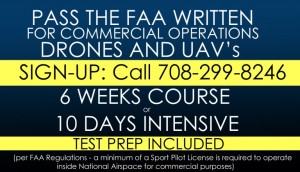 ---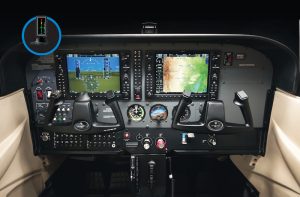 AVIATION Safety
Cessna Skyhawk now equipped with Angle of Attack system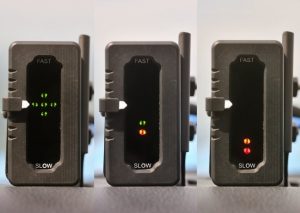 Cessna Aircraft Co. announced at Sun N' Fun that Safe Flight's SCc Angle of Attack (AoA) system is now standard on all Cessna Skyhawk 172 aircraft and optional on the Cessna Skylane 182 and Cessna Turbo Stationair 206.
"Textron Aviation is constantly looking for innovative solutions for our piston customers and making the SCc Angle of Attack system standard on all Skyhawk aircraft is a great example of bringing the latest technology to our products", said Doug May, vice president, Piston Aircraft. "We are thrilled to work with Safe Flight to bring this latest enhancement to the cockpit, providing an improved flying experience for our customers".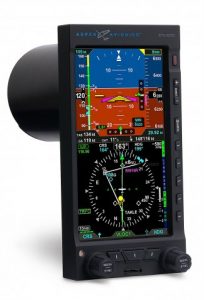 Safe Flight has nearly 70 years of experience in providing primary stall warning and AoA systems. SCc is the only supplemental AoA system to utilize leading edge lift information, the most accurate and dependable measurement of AoA. This dash-mounted system provides trend and AoA information during all phases of flight, allowing for instantaneous visual and audio feedback.
http://generalaviationnews.com/
---

AVIATION training
Aspen Displays Now Compatible With Garmin ADS-B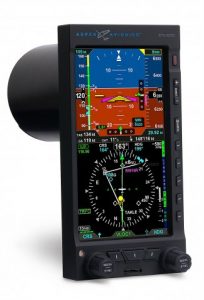 As Sun N' Fun drew to a close, Aspen Avionics announced yet another encouraging development in the avionics market: compatibility with Garmin's new line of ADS-B systems.
Through a newly approved STC, Aspen's Evolution-series PFD and MFD retrofit display systems can display ADS-B weather and traffic when connected with Garmin's GDL88-series dual-band ADS-B receiver. The company also said it's planning on including Garmin's new GTX345 ADS-B transponder to the interface by the end of the year. The GTX345 is Garmin's next-generation wireless all-in-one 1090ES transponder that replaces the GTX330ES. It also has a built-in dual-band traffic and weather receiver.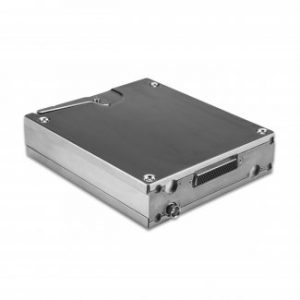 The GDL88 is Garmin's remotely mounted ADS-B system and is available in several versions and price points, both with and without internal WAAS GPS and weather and traffic receiver. While Garmin's ADS-B protocol was previously only compatible with select Garmin displays, the company has been gradually opening its architecture to third-party interfaces, including the recently announced interface with the NavWorx ADS600-B ADS-B receiver.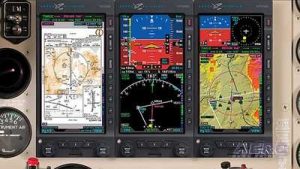 The cost for Aspen's unlock software to enable the Garmin interface is $795 and can be field-installed by any authorized Aspen dealer. Aspen's entry-level Evolution VFR PFD has a starting price of $4995 and Garmin's GDL88 starts at $3995.
http://www.avweb.com/
---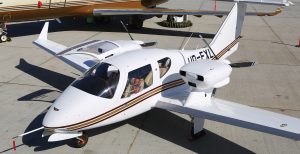 AVIATION News
From Ukraine, A Four-Seat Twin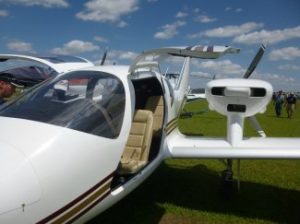 A new all-composite light twin built in Ukraine made its first appearance at Sun N' Fun this week.
The four-seat Softex Aero V24 is being sold in the US as an experimental, with a builder-assist center in Washington, company representative Dara Voss said. About eight of the aircraft have been sold since 2014, Voss said.
With a Lycoming engine, he added, the airplanes are for sale at $550,000, or a show special price of $375,000. It's also available with a Rotax ULS/S engine or a TP100 turbine. With the Lycoming, top speed is 205 knots, and it tops out at 276 knots with the TP100. The engines are mounted on pylons above each wing.
The Softex company operates from a 50,000-square-foot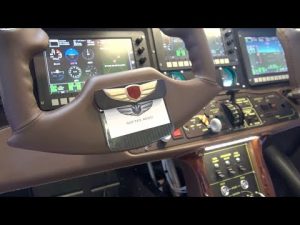 production facility, with 170 employees, according to its website.
Besides the twin, the company also produces a light multipurpose helicopter. The Rotax version of the twin was type-certified in the Ukraine in late 2014. It has a range of 800 nm.
http://www.avweb.com/
---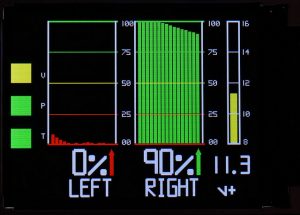 AVIATION News
Belite introduces Radiant instruments, fuel probe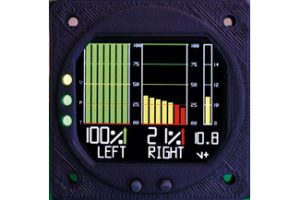 Belite has introduced its new Radiant instrument line for experimental, Light-Sport Aircraft and ultralight aircraft.
The new instrument line combines many functions into mall, lightweight units, according to company officials.
The new instruments utilize sunlight readable high contrast color LCD screens which are also friendly with sunglasses.
Belite also introduces its new Capacitance Fuel Probe. The new fuel probe supports multiple bending, allowing it to fit into any shape of tank.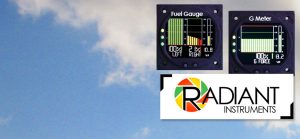 Even with many bends, it is designed not to short out and fail. It also features easy calibration via pushbuttons. It is available in any length from 6 inches to 40 inches.
http://generalaviationnews.com/
---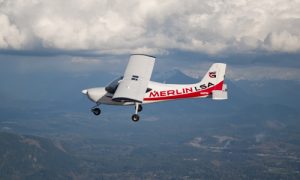 AVIATION Technology
Merlin LSA Awarded FAA Certification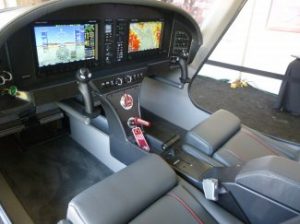 Glasair Aviation's Merlin LSA received FAA light-sport certification this week, marking the company's first foray into factory-built aircraft as it continues to produce its series of kitplanes.
Glasair announced on Wednesday it anticipates sales to personal owners as well as flight schools.
The high-wing Merlin, which was introduced nearly two years ago at Sun 'n Fun, has been marketed as an LSA that can withstand the rigors of student pilot training and offer efficient operations with a Rotax 912iS engine.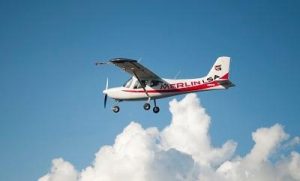 It also offers the ability to carry two people with a full fuel tank. The LSA, which by regulation has a maximum gross weight of 1320 pounds, offers a useful load of 530 pounds and fuel capacity of 24 gallons.
The prototype first flew in April 2015 and was displayed with a full-glass cockpit.
A Glasair spokesman told AVweb this week the anticipated price for the LSA will be in the range of $149,950. Eighteen Merlins will be assembled in the next 12 months. Initial deliveries of the Merlin are expected in third quarter of this year, the company said.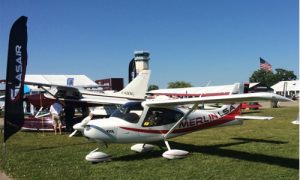 http://www.avweb.com/
---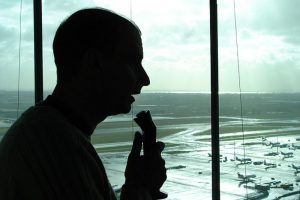 TIP of the week: Know Your Clearance
Do you understand what the controller is telling you?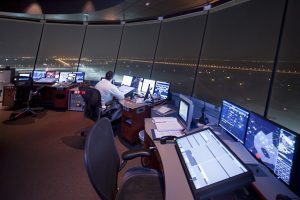 Always ask for clarification if it is unclear what a controller is trying to tell you.
The other day, I was flying along and overheard a conversation between a controller and a pilot attempting to depart IFR from an uncontrolled field nearby. The controller gave the pilot a clearance with a void time. When the pilot read back the clearance I noticed that he made no mention of the void time.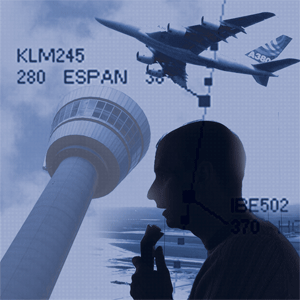 A few minutes later, I overheard the pilot saying something about being ready for departure. The controller responded, but did not clarify that he had a void time and was able to take off as long as he did it before that time was up.
Around 10 to 15 minutes later the pilot queried the controller again about a departure clearance. By that time, the void time had passed and the controller gave the pilot a new clearance.
Departing IFR from an uncontrolled field can be a bit confusing if you don't understand the clearance. Knowing what a controller says is critical whether you are flying IFR or VFR. If you are confused about what a controller is telling you, it is always best to ask for clarification.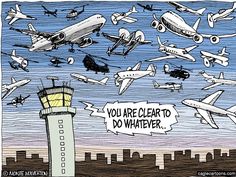 Taking off or proceeding when you are unclear about what the controller wants you to do can be a serious risk to yourself and your fellow pilots in the sky.
http://www.flyingmag.com/
---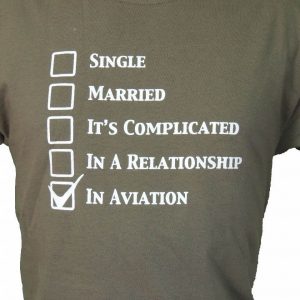 7 good things about GENERAL AVIATION
Pilots are famous for being passionate about flying, but they're also famous for being pessimistic about flying. Plenty of pilots like to grumble about the state of aviation these days, decrying high fuel prices, expensive airplanes and an intrusive FAA. If only we could go back to "the good old days", they say. We're not completely innocent here at Air Facts, either–just read our Special Report from a few months ago. Judging by some of the comments, general aviation is in a death spiral.
For an outsider or a new student pilot, this negativity can be very discouraging. Why invest lots of time and money into a hobby or profession that seems so hopelessly weak? If the people who are already pilots think it's so bad, why would anyone new want to join in? Indeed, we do ourselves no favors when we emphasize the negatives and ignore the positives.
What positives, you say? How can there be any good news in a world of $7 avgas and $700,000 piston singles?
Call us hopelessly naive if you want, but I think there is still a lot to be thankful for as pilots. With that in mind, I'd like to offer seven good things about general aviation right now: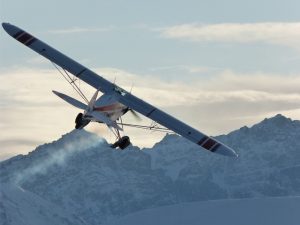 1. Start with the obvious, but under-appreciated, fact that the US is still by far the best place in the world to fly (sorry international readers). Both the infrastructure and the culture provide a strong foundation for aviation in general and private pilots in particular. Just unfold a sectional and look at how many airports there are in the US–and they're not all in major cities either. Then consider the great service we get from Flight Service and Air Traffic Control (heck, even most FBOs) without paying user fees. There is probably no other place on Earth where you can take off with an iPad and a credit card and fly across the country–no flight plans, no government approval, and no radio required. That's real freedom, and it's to be appreciated.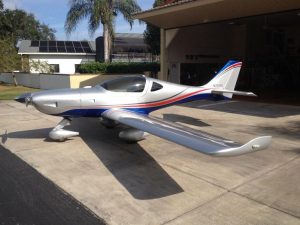 2. The Light Sport Aircraft market is robust. Sure, LSAs aren't $50,000 like some had hoped, but this is still a vibrant niche, with entrepreneurial companies competing fiercely with each other to design higher performing and less expensive aircraft. Pipistrel thinks it can build a sub-$100,000 training airplane. That may sound expensive, but against a $300,000+ Skyhawk, it's radical innovation. And Pipistrel is hardly the only company with big ideas. In fact, the most common complaint is that nobody can keep track of all the new companies in the market. True, it's somewhat chaotic, and it's unlikely that all of these companies can survive–but when's the last time you heard pilots complain about too much competition?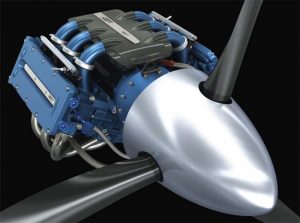 3. In a related area, aviation companies are finally working on new engine designs. For decades, avionics have advanced rapidly, but engines have been stuck in the 1940s. This while gas prices have rocketed into the 21st century. That's finally starting to change, as diesel and electric powerplants are getting a serious look. Cessna introduced the Skylane JT-A, their first diesel airplane that has a real chance of being delivered. This could be huge for international customers, and increasingly attractive for US customers too as avgas gets more expensive and eventually fades away. On the lower end, lots of companies are experimenting with electric airplanes, either as hybrids or completely gas-free. Electric motors won't replace Cirrus SR22s anytime soon, but in the next decade they very well might enter the training and recreational flying market. This innovation, combined with new diesel technologies, has the potential to lower costs and is a good sign for pilots.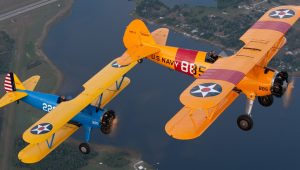 4. Oshkosh, aviation's grand fly-in/family reunion/trade show, is as strong as it's been in a decade. While so much of aviation has been shrinking, EAA's big show every summer remains a spectacular event. It's not perfect (what big event is?), but it represents aviation at its messy best: homebuilts, antiques, seaplanes, military jets, warbirds, production airplanes, business jets and just about every other kind of flying machine sit side-by-side at KOSH. The entire aviation world comes together here to celebrate and show off what's new. Oshkosh is also invitational, welcoming non-pilots and dreamers by the thousands to taste aviation and join the family. Anyone who's down on aviation needs to spend a few days in Wisconsin this summer and feel the energy that's still there.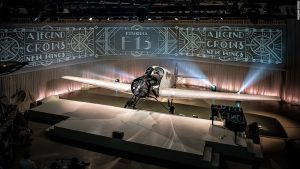 5. Airplanes are built to last. This is a problem in some pilots' eyes, as they argue that we simply built too many airplanes in the 1970s. But while this may be a problem for new airplane salesmen, it has left us with a glut of affordable airplanes that provide good utility. Sure, a 1977 Cessna 182 may sound old, but with some smart upgrades it can be a fantastic airplane for under $75,000. And while a 1977 car may be worthless, a 1977 airplane–if maintained properly–can fly on for many more years. Maybe the FAA deserves some credit for demanding airplanes be well-built; maybe the manufacturers just believed in the product and built them the right way. Whatever the cause, there is a healthy market in used airplanes that allows many pilots to own quality airplanes that would otherwise be unaffordable.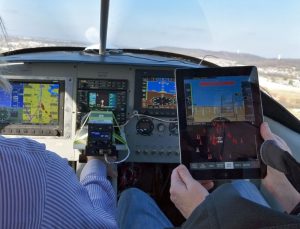 6. The iPad is making flying less expensive, at least a little. One of the reasons Apple's wildly popular tablet has been such a hit is that it lowers the cost of flying–replacing expensive paper chart subscriptions and even more expensive aviation GPSs and XM Weather receivers. The savings can amount to more than $2000/year in chart and subscription fees, which is enough for about 30 hours of gas in a 172 or Cherokee. And these savings aren't due to an inferior product; if anything, the iPad is a step up. The fierce competition between app developers ensures that quality and features will only increase in the year ahead. In a world where so many things are getting more expensive, it's nice to have one product that delivers more features for less money.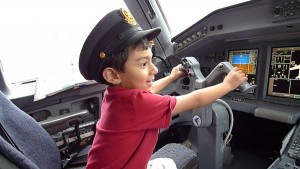 7. Pilots still help other pilots. One of general aviation's defining characteristics is its spirit of camaraderie and brotherhood. Go to any fly-in or airshow, from a local pancake breakfast to Oshkosh, and you'll feel it right away. People who would otherwise have nothing in common and never be friends can instantly connect when aviation is involved. I've been bailed out by this spirit more than once, from a loaner car at a remote airport to a mechanic's free help on a Sunday night. These people helped simply because, as the airport manager said after I returned his car, "That's what pilots do–we help each other". Try getting that kind of service at a gas station or from a stranger on the street.
For sure, everything is not rosy–general aviation faces a number of serious problems as 2013 dawns. But let's not get carried away. As the list shows, there is still a lot to be thankful for. For me, the good far outweighs the bad.
The next time a student pilot or non-pilot asks you about flying, tell them about the unforgettable sunsets you've seen from the cockpit or the efficient day trip you did in a small airplane that would have been impossible on the airlines. Tell them how learning to fly changed your life, and how a pilot's license never expires. Leave the laundry list of complaints for another day.
http://airfactsjournal.com/
---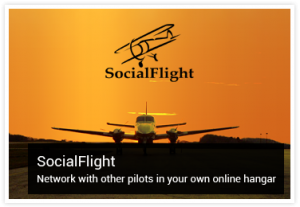 AVIATION Training
SocialFlight offers more "social" features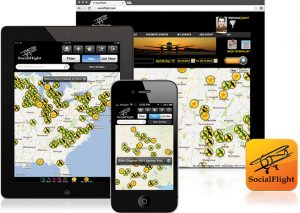 SocialFlight, the app and website that shows pilots what events are near them on any given day, will launch a new release, Version 5, on May 1 with features that will let users become even more social, founder Jeff Simon said April 7.
Users will be able to upload photos of their aircraft and even tell stories.
Another new feature, prompted by user feedback, incorporates destinations in addition to specific events. This lets pilots know of airports they might want to visit because of on-site or nearby attractions, Simon said. Users will be able to upload photos of those destinations and add to the information supplied by the app and website, he said.
A new Points of Interest dashboard will let use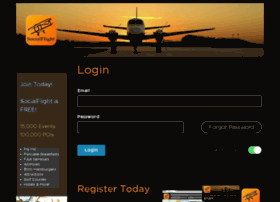 rs search aviation businesses, attractions, restaurants, lodging, transportation, or camping options near airports. This feature is useful not only for pilots but for people traveling by car, Simon said.
Launched in 2012, SocialFlight now has nearly 50,000 registered users. In addition to a searchable database and social media features, SocialFlight sends an email every Wednesday to members based on preferences they have set to alert them o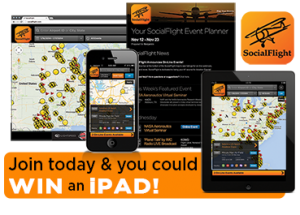 f events in the coming week they may be interested in attending.
The app, which has been developed for the iPad, iPhone, Android tablet and smartphone, and Web, is free to download and use to post or search events or connect with other pilots.
---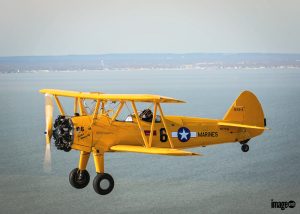 VIDEO of the WEEK: Cutting toilet paper with a Stearman!
Nick Ziroli, pilot and owner of the Stearman in this video, takes Annemarie Bain up to show her how to cut a roll of toilet paper thrown from his Stearman! What an adventure!
http://generalaviationnews.com/
---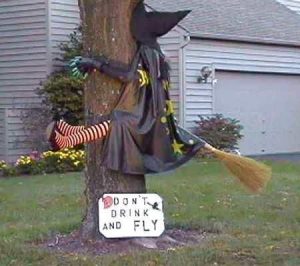 AVIATION Events
Accidents this month in U.S.A
Pilot and passenger injured in Long Island small plane crash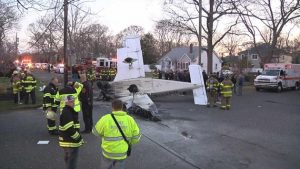 New York, April 10: A small, single-engine plane crashed on a Long Island residential street on Sunday, April 10, leaving the pilot and a passenger injured.
The Piper PA-28 Cherokee crashed at an intersection in Bayport, NY, at about 7 pm local time.
The Federal Aviation Administration has launched an investigation. Local fire crews doused a fire that started after the plane crashed.
The pilot, Scott Clifford, 34, was hospitalized in serious condition also suffering from two broken legs and a head injury. His passenger, Michael Rome, 65, was hospitalized and listed in a fair condition. No one on the ground was injured.
The plane crashed about one block away from a rural airport grass runway. The plane managed to avoid striking surrounding homes.
—————————————————————————————-
1 dead, 1 injured after small plane crash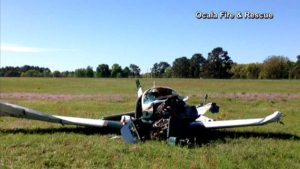 Ocala, Florida, April 09: Authorities say one person died and another person suffered minor injuries when a small plane crashed at a north Florida airport.
The crash happened Saturday, April 09, morning at city-owned Ocala International Airport.
The plane had departed the airport but encountered some trouble and turned around to land.
Authorities have not released the names of either person in the plane. The injured person was taken to a hospital. The person who died was a man. The injured victim was a woman.
The runway adjacent to the crash scene has been closed. No additional information was immediately available.
—————————————————————————————-
Small plane crash near Jesup airport
Jesup, Ga, April 08: A small plane crashed near Jesup Airport around 1:20 pm.
The pilot, Paul Laurent, from Wisconsin was flown to Memorial Hospital in critical condition.
NSTB is investigating the crash.
---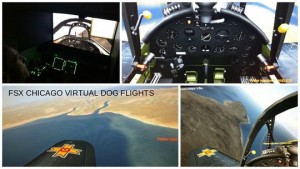 While serious about flight training, we can always have bit of fun!
Join FSX Chicago DREAM FLIGHT Challenge!
Our motion simulator allows many type of aircraft to be flown. Take advantage and book a DREAM FLIGHT.
Choose from a single engine, twin, turboprop, jet and take to the skies. Get flying tips from our instructors. If aviation is your passion, you have to come see our Aviation Center.
DREAM FLIGHT... Call 708-299-8246 and have fun in our Motion Simulator!
Dream Fly Experience / Intro to Aviation takes approximately 75 minutes.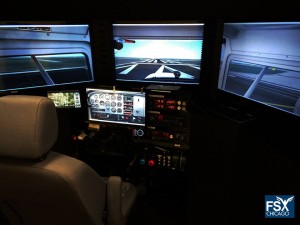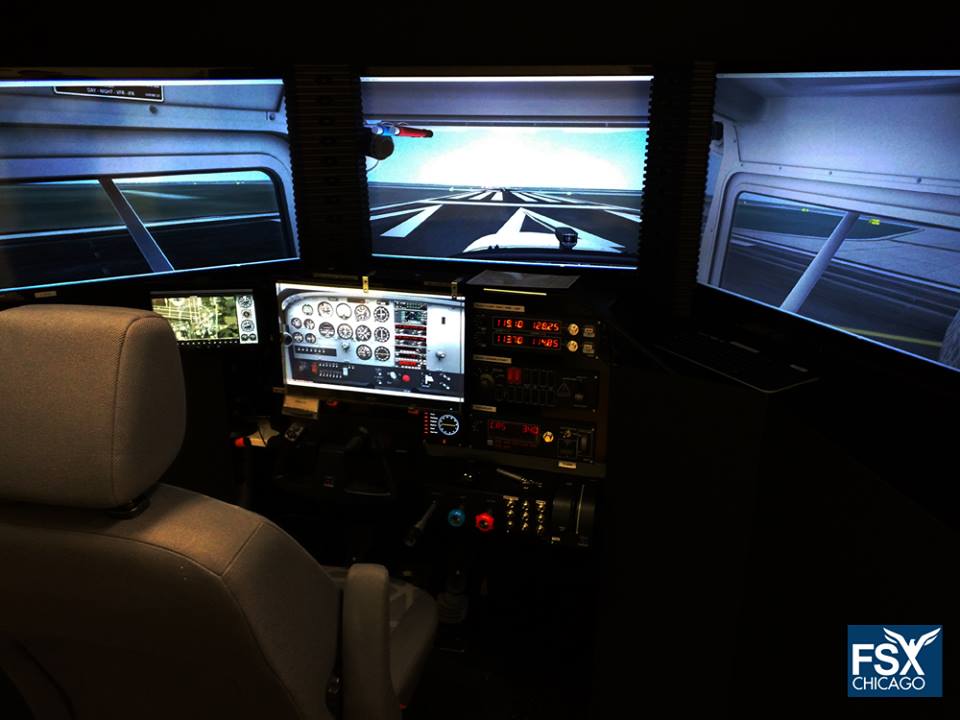 ---