FSX Chicago Newsletter March 01 – March 15, 2016

---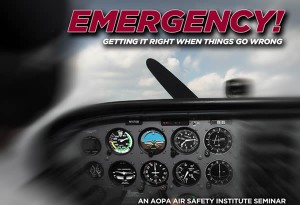 Aviation EVENTS in Illinois, March 2016
Emergency! Getting it Right when Things Go Wrong!
We spend time training for them, but real-world emergencies are rare enough that it's easy to get complacent. They don't always happen to "other pilots", though, and preparation can make a big difference when things don't go as planned:
– What if you lose 500 rpm during takeoff, but the engine is running smoothly?
– What if the ammeter drops to zero during a flight in IMC?
– What if your left aileron develops a strong vibration in flight?
Our new seminar is full of expert tips on handling those "up here, but wishing you were down there" scenarios. We focus on how to keep abnormal situations from becoming full-blown emergencies, offer advice on keeping critical problems under control, and give our best advice on off-airport landings.
Here are the dates:
– Monday, March 14, 2016, starting at 19:00 Central Daylight Time; Location: Crowne Plaza Chicago-Northbrook, 2875 N Milwaukee Avenue, Northbrook, IL 60062
– Tuesday, March 15, 2016, starting at 19:00 Central Daylight Time; Location: Hilton Lisle/Naperville, 3003 Corporate West Drive, Lisle, IL 60532
– Wednesday, March 16, 2016, 19:00 – 21:00 Central Daylight Time; Location: Embassy Suites East Peoria, 100 Conference Center Dr, East Peoria, IL 61611
– Wednesday, Thursday, March 17, 2016, 19:00 – 21:00 Central Daylight Time; Location: Hilton Garden Inn – Rockford, 7675 Walton St, Rockford, IL 61108
No RSVP required. Qualifies toward AOPA Accident Forgiveness and FAA WINGS.
For more information on seminar locations and dates, visit www.airsafetyinstitute.org/seminars or call 800-638-3101.
—————————————————————————————-
South Suburban Chapter of the Illinois Pilots Association Aviation Safety Seminar
Topic: Single Pilot Resource Management and ADS-B Update.
Wednesday, March 16, 2016, starting at 18:45 Central Daylight Time
Single Pilot Resource Management – Hal Jackman, A&M Aviation will discuss the planning and steps to take to fly safely in the single pilot VFR and IFR environment. An ADS-B Update – David Kay, J.A. Air Center will address the various products available to equip aircraft to comply with ADS-B requirements.
Location of Seminar: Windy City Aero Hangar, 3249 Glenwood-Lansing Road, Lansing, IL 60438
Seating: 100 seats at the facility, 78 remaining for online registration.
Sponsoring Division: Illinois FAASTeam
Contact Information: Wayne Babiak
Phone: (708) 989-6214
E-mail: web44aia@comcast.net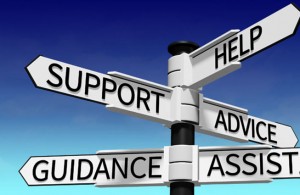 ---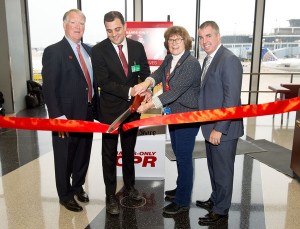 LOCAL NEWS
Interactive CPR kiosk debuts at O'Hare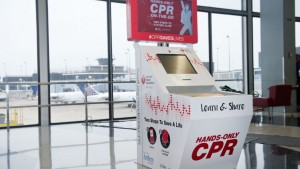 On February 24, the Chicago Department of Aviation (CDA), along with the American Heart Association (AHA), unveiled an interactive, hands-on CPR training kiosk at O'Hare International Airport.
It's located in Terminal 2, past security checkpoints, near the Kids on the Fly play area.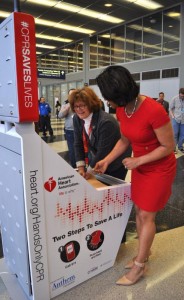 The innovative kiosk, provided by the Anthem Foundation, has a specially-designed rubber torso that allows users to practice compressions. In fact, it feels just like it would if performed on a person.
The kiosk provides immediate feedback about the depth and rate of compressions and proper hand placement, which influence the effectiveness of CPR.
O'Hare is one of two airports in the United States that has this new, life-saving technology
The training kiosk complements the 114 Automated External Defibrillators or AEDs that are widely available throughout Chicago's airport facilities as well as the Chicago HeartSave Program that provides free CPR training and instruction on how to use AEDs to airport employees and contractors. More than 20,000 airport employees have been trained since the HeartSave™ program began in 1999, and 93 lives have been saved at Chicago's airports.
---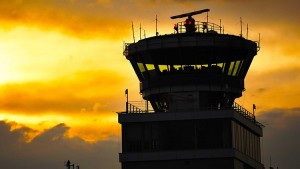 BIG NEWS
ATC Privatization Shelved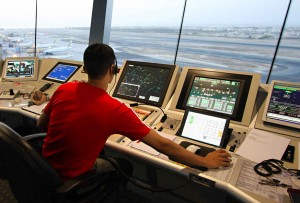 House Republicans have shelved the controversial re-authorization bill that would have, among other things, created a privatized air traffic control system.
The Hill was reporting that instead of pursuing the full re-authorization bill, the House will instead concentrate on passing a short-term extension of the current authorization, which expires on March 31.
House Transportation Committee Chairman Bill Shuster (R-PA), who championed the privatization move, said in a statement the idea is still alive. If the House didn't back off on the bill, the Senate was apparently ready to do it for them, however.
The Senate was getting impatient with the protracted debate over something it clearly saw as a non-starter and was preparing its own re-authorization bill without the privatization element.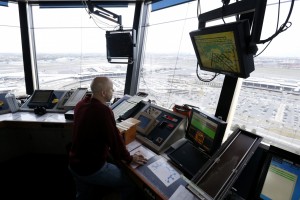 Aviation group opposition to the privatization bid was a key factor in the House move. The work ahead will likely result in a much different approach to the issue.
The biggest concern among opponents was the heavy influence of major airlines (four of 11 votes) on the board of directors that would have resulted from the structure that was envisioned.
A few other things of interest to GA were lost with the shelving of the bill. A pure form of the driver's licence medical (no medicals at all for most private pilots), the guarantee that no user fees would result from the new ATC corporation and the unfettered ability to build homebuilt aircraft in hangars at airports were also included in the bill.
---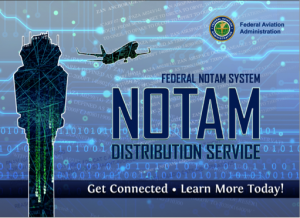 Aviation SAFETY
That Frigid FICON NOTAM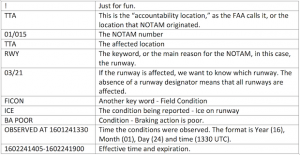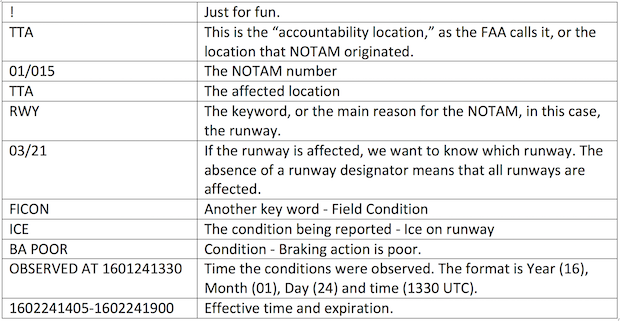 I don't know about you, but we've had a few snow and ice storms this winter in our neck of the woods. As a flight instructor, bad weather offers the opportunity to teach students about runway condition and braking action, among other things, and it's a good time to reinforce the importance of checking NOTAMs before heading to the airport.
During a recent winter storm, we were snowed in for three days. We were all getting antsy, wanting to get out of the house and fly. So after the clouds cleared, a student and I scheduled a flight for the first VFR day after the snowstorm. The weather looked fantastic – clear below 12,000, light winds and sunshine. Everything looked great… except for just this one thing:
!TTA 01/015 TTA RWY 03/21 FICON ICE BA POOR OBSERVED AT 1601241330. 1602241405-1602241900.
What does all that mean? In short, it means that there was still ice on the runway, and braking action was poor. This is a NOTAM(D) for runway condition, and yet another good reason to always check NOTAMs! While the weather outside was great VFR flying weather, we were still stuck on the ground. Here's a breakdown of this NOTAM:
A NOTAM for field condition (FICON) can be issued for any of the following runway conditions: Snow, Ice, Snow and Ice, Slush, Water, Drifting or drifted snow, Plowed/Swept, Sanded/De-iced, Snow banks, Mud, Frost, Frost Heave, Cracks, Ruts, Soft Edges
Here in one more examples: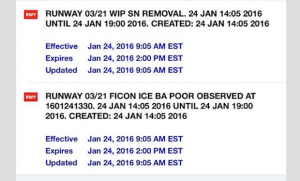 !MIV MIV RWY 10/28 FICON 1/4 IN LSR WEF 1112201200 – NOTAM for Millville Municipal Airport (MIV), runway 10/28 is covered in ¼ inch loose snow, observed December 20, 2011 at 1200 UTC.
But what does that really mean? Can you – or should you – land under these conditions? For pilots, there are a few things to consider when taking off or landing on runways with any type of contamination. FICON NOTAMs will often include braking action reports, given as GOOD, FAIR, POOR or NIL, like in the example above. These values are often reported by pilots as they land.
Sometimes, braking action is reported as a MU value. MU is the mathematical term for the coefficient of friction, and its value is determined by a friction measuring device at airports. A value of 40 or above would mean braking action is good. A value of below 40 MU can mean a significant reduction in braking action.
Landing on any runway with less than GOOD braking action can be hazardous. It's always best to avoid landing on runways covered in snow and ice. Even water can decrease braking action significantly.
If you must land on an icy or snowy runway, use extreme caution, make a normal, stabilized approach use aerodynamic braking as much as possible before touching down. Try to keep the nose wheel straight during the landing roll-out to prevent skidding. And remember that the taxiways are often in worse condition than the runways – even if the runway has been cleared, there's a good chance the parking area hasn't been.
Sarina Houston forhttps://blog.globalair.com/
---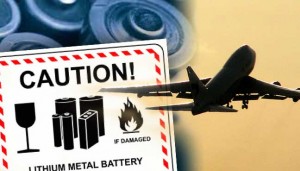 Aviation SAFETY
UN aviation agency bans lithium-ion batteries as cargo on passenger flights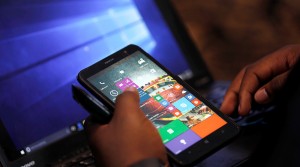 Lithium-ion batteries can no longer be transported as cargo on planes, the UN aviation agency has ruled, alleging a serious safety risk. The rechargeable phone and laptop batteries have been ruled a fire hazard, and the decision will stand until new packaging standards are agreed.
The 36-state council says the decision will take effect April 1 and would be mandatory for all member states. Reported by the ICAO on February 13, the decision was announced pending the results of an investigation carried out in the United States and Japan.
The ICAO added that no additional restrictions will be placed on other batteries or other means of transporting lithium-ion batteries.
The agency's concerns stem from those already voiced by pilots and aircraft manufacturers that the current packing standards aren't fire resistant. According to a 2015 Boeing report, current fire safety measures on passenger aircraft cannot "suppress or extinguish a fire involving significant quantities of lithium batteries".
The same fears were echoed by the US Federal Aviation Administration recently, which warned of the possibility of "a catastrophic explosion" waiting to happen if lithium-ion batteries are transported in cargo holds.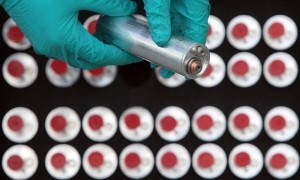 Some airlines have already gone ahead with the measure voluntarily. Despite the fears, however, there are those who disagree. One unnamed expert familiar with the matter told the agency: "When the industry banned the shipment of lithium-metal batteries, we saw instances of them being passed off as lithium-ion batteries", which he said pointed to the fact that non-compliers will continue to not comply.
Still, there were two times in the recent past when lithium-ion batteries had caused serious trouble on planes – both of them in January 2013 aboard a Boeing 787. One occurred in Boston, the other in Japan – a fact that forced an emergency landing at the Takamatsu airport in western Japan. As a result, regulators grounded all 787s for more than three months.
---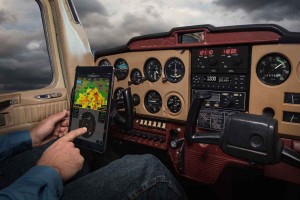 Aviation TECHNOLOGY
Garmin Pilot for iOS enhanced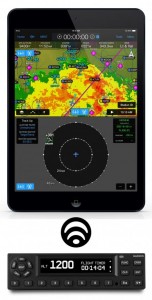 Garmin has updated its Garmin Pilot app, which integrates with the new GTX 345 all-in-one ADS-B transponder.
The latest iOS version incorporates a new flight profile view, airspace altitude labels, trip planning enhancements, United Kingdom VFR charts for international pilots, support for X-Plane 10, and more, according to Garmin officials.
Regardless of existing avionics configuration, the new GTX 345 ADS-B In/Out transponder pairs with Garmin Pilot for iOS to wirelessly display:
– Subscription-free Flight Information Service-Broadcast (FIS-B) weather;
– Complete picture of ADS-B equipped traffic, leveraging exclusive TargetTrend and TerminalTraffic;
– GPS position information;
– Back-up attitude information powering the rich, SVX synthetic vision and Garmin panel; and
– Flight Profile View
A vertical cross section of airspace, terrain, obstacles and weather give pilots a more detailed look at their intended route of flight.
When selecting a desired altitude, terrain is color-coded so it's easy to identify potential conflicts. Airspace and weather can also be selected within profile view to display additional information.
Pilots can optionally pinch-and-zoom within the flight profile view to receive a more detailed view of their flight plan at-a-glance. In addition to departure and destination airport pairs, waypoints within a flight plan are denoted as white dashed lines within the flight profile view for easy reference. Flight profile view is only available on iPads.
Similar to airspace labels found on a sectional chart, Garmin Pilot's interactive maps now display maximum and minimum airspace altitude labels. Altitude labels offer pilots added situational awareness in congested airspace and allow for easier identification in unfamiliar airspace segments.
Selecting "Airspace" in the Advanced Map Setup page allows pilots to configure airspace labels to best suit their needs. Pilots can more easily select the best suitable altitude for their intended route of flight using the Altitude Selector Guide. The Altitude Selector Guide can be accessed within the Trip Planning form, which displays fuel burn, estimated time enroute, as well as headwind or tailwind components. Pilots can then select IFR/VFR and an East/West heading to derive the correct altitude for their flight.
Further aiding in fuel and trip planning, a Minimum Flight Requirement warning will populate when the TAF for the departure or destination airports is at or below IFR minimums.
This warning populates as a yellow triangle in the following areas:
– Trip Planning icon on the main menu
– Departure/destination airport on the Trip Planning form
– Within the Upcoming Trip page
– For IFR flights, the Alternate Airport Selection Guide displays airport information along with ceiling and visibility. Pilots can simply select an airport to easily file it as an alternate airport.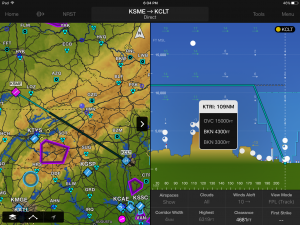 Garmin Pilot now supports X-Plane 10 or higher. Customers may launch X-Plane and connect Garmin Pilot to the simulator via Wi-Fi. Once the connection is made, Garmin Pilot conveniently sends AHRS and GPS information to display flight plan information within the application and the simulator. The airport widget tab has been enhanced to provide easy access to pertinent airport information, including elevation, frequency, runway and non-standard traffic pattern.
The latest version of Garmin Pilot for iOS is available immediately in the U.S. as a free update for existing Garmin Pilot subscribers. The new United Kingdom VFR charts are available starting at $34.99. For new customers, Garmin Pilot is available in the Apple App store as a free trial for the first 30 days.
http://generalaviationnews.com/
---

Aviation TECHNOLOGY
Check out AOPA's new graphical area forecasts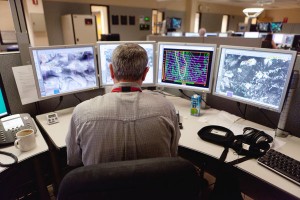 Futuristic weather products from the National Weather Service similar to this depiction of a large area of clouds and precipitation will soon replace the text-heavy area forecast.
A pilot in the northeast is looking over the experimental graphical forecasts for aviation as a large area of low clouds and precipitation makes its way into the region. With the "cig/vis" button clicked, the pilot moves through time using arrows provided with the "display time" tool, or slider.
The pilot notes the northeastward movement of the weather system that is forecast to occur during the period. The mass of weather includes a well-defined area where an airmet is in effect for "CIG BLW 010/VIS BLW 3SM PCPN/BR".
Clicking next on a button that brings up a graphical presentation of clouds, and selecting the desired time for the display, the pilot's computer screen is filled with a multi-colored rendering of expected cloud cover, accompanied by localized sky conditions to expect, consisting of cloud coverage, bases, and tops.
What about icing? There's a graphics page for that too – and as you click through the forecast time period, the area of the icing airmet (which gives the freezing layer or layers, type, and severity of icing) moves and reconfigures with the passage of time.
Those are just three of eight pages of graphics you can inspect right now if you care to inspect the futuristic weather products that will soon replace the text-heavy area forecast.
Taking the time to do so will be well worth the effort, and will give you an opportunity to click a survey button and offer your suggestions about the design of the new product. Area forecasts, which originated in the 1930s, will probably be discontinued later this year for the lower 48 states. They will continue to be available, for the time being, for Alaska, Hawaii, the Caribbean, and the Gulf of Mexico coverage areas.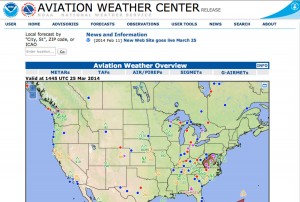 AOPA and the Air Safety Institute have been studying and commenting on the experimental product since the National Weather Service's Aviation Weather Center made it available for public inspection – and many of the association's suggestions have been incorporated in the still-evolving design.
Comments will be accepted on the experimental graphical forecasts for aviation until April 11. The new product and its components "are designed to provide meteorological information equivalent to the textual Area Forecast (FA) in a graphical format, as requested by the FAA. This product includes observations and forecasts valid for the continental United States that provide data critical for aviation safety, overlaid on high-resolution basemaps. Please note that the text-based Area Forecast is still being produced", says a note on the Aviation Weather Center's website.
---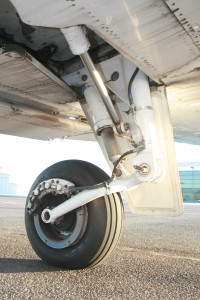 TIP of the Week
How to properly clean oleo struts?
HK Sawyer of Northwest, Ga, submits this advice:
You say you're tired of that nastiness that builds up on your oleo struts? And, in general, down there?
You can, and should clean it, regularly. BUT don't wipe your landing gear oleo struts down with any sprays or lubes other than hydraulic fluid. I am told that various ingredients of many oil spray products will attack the hydraulic seals. That will hasten their failure slowly.
Keep a can of the recommended hydraulic fluid handy and wipe them frequently.
Don't grind sandy particles onto the shaft or embed them into the recesses.
Don't spray your landing gear with de-greaser to make it shine because the de-greaser will find its way into the internals and de-grease them as well.
If you already did, then don't sweat, just make sure you have a good cleaning and lube performed, preferably alongside your favorite mechanic, and you will know how to do it next time. Give him something extra for allowing you to be there, and learning from his knowledge. It's worth it. Besides, his time is valuable.
De-gunking areas where dirt and particles become embedded is a good practice. Don't be afraid to get your hands a wee bit dirty! You can always use medical type gloves also.
While you're down there getting nice and grimy, check your tire pressures and inspect them carefully.
You can use the same logic in cleaning around the brakes. Believe it or not, strong soap and water and a toothbrush works pretty darn good!
But the lesson is not to use solvents or de-greasers just to make things pretty when you don't know what the contents will do.
---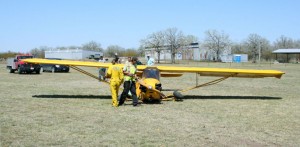 Learn From the Past!
Touch-and-goes go bad: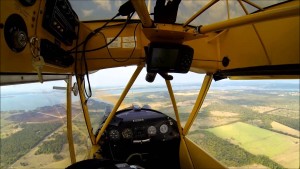 Two witnesses reported that they saw the pilot performing touch-and-go landings at the airport in Macon, Ga.
During takeoff, the Piper J3C-65 lifted off about halfway down the runway and began a right turn to the crosswind leg of the traffic pattern when it was about 100 feet above ground level. As it began the right turn, its bank angle increased from about 30° to 90°, and its forward speed slowed.
The Cub stalled, rolled right, and descended uncontrolled into a grassy area adjacent to the runway, resulting in two serious injuries.
The recorded wind about the time of the accident was aligned with the departure runway at 11 knots gusting to 20 knots.
FAA guidance advises pilots not to turn to the crosswind leg until the airplane is beyond the departure end of the runway and has reached an altitude of 700 feet AGL or higher.
The pilot's turn at 100 feet AGL while in the traffic pattern was too low and did not allow sufficient altitude to recover from an in-flight upset.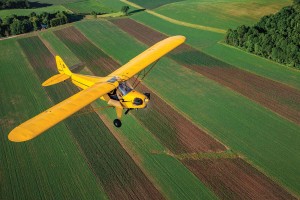 The NTSB determined the probable cause as the pilot's failure to maintain control while maneuvering in the traffic pattern at low altitude in gusting wind. Contributing to the accident was the pilot's improper decision to maneuver in the traffic pattern at a low altitude that did not allow for recovery.
NTSB Identification: ERA14LA137
This February 2014 accident report is provided by the National Transportation Safety Board. Published as an educational tool, it is intended to help pilots learn from the misfortunes of others.
---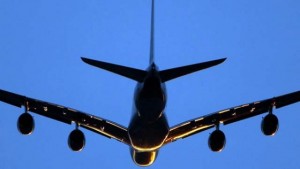 AVIATION Contest
Aviation photos wanted for online contest
The Granite State Airport Management Association is launching the free contest on March 1 as part of an exhibit.
The contest will allow collegiate, amateur, and professional photographers to submit photos via Facebook. The purpose of the exhibit is to show the diversity of New Hampshire aviation through the eyes and lenses of pilots, operators and aviation enthusiasts. Creativity is encouraged.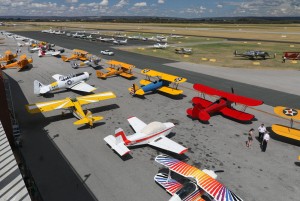 Winning photos will be printed and displayed in an exhibit that will be hosted by Daniel Webster College, the Sheppard-McAuliffe Discovery Center, NHTI, and the Aviation Museum of New Hampshire.
New Hampshire's airports range from grass strips to 11,000-foot runways. They provide more than 9,000 jobs.
---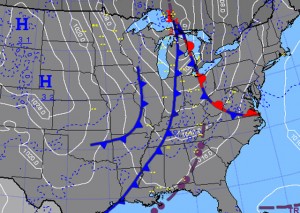 IFR!
"When Ice Becomes Perceptible"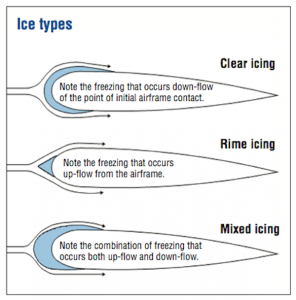 A chilly morning has given way to warm sunshine for an afternoon session of simulated instrument flight. Later, clear skies will give way in stages to a 400-foot overcast by tomorrow morning as a strong frontal system sweeps eastward into New England. The first notable deterioration (scattered clouds at 2,000 feet) may arrive before sundown, and it will be steadily downhill from there.
No problem, you're briefed and ready. Bring on the pre-flight grilling that now is sure to begin.
Oh, no, your instructor has his new tablet out, and it looks like he has learned how to use it. See how deftly he moves between various weather-data screens! (This is an unnerving development.)
Now, however, he puts the gizmo aside as you spread out your briefing material on the table and commence your practiced recital of the weather. You describe the current and forecast conditions, taking pains to note that despite the early-fall warmth, you made sure to check the freezing level, which, according to an airmet, remains acceptably high: "FRZLVL RANGING FROM 085-160 ACRS AREA, 120 ALG 40W HNN-50NW ERI-70WSW YYZ".
"Point out that 12,000-foot freezing level area on this map".
Uh-oh, HNN isn't coming up in the airport directory listings. Then you recall that other location identifiers are also used in airmets, such as VORs and "well known geographic areas", according to the Aeronautical Information Manual. He waits while you do some hasty research, and determine that HNN is the Henderson, West Virginia, VOR.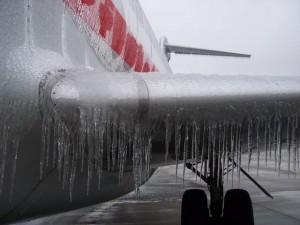 Now the AIM saves the day: Figure 7-1-3, the In-flight Advisory Plotting Chart, helps you identify YYZ as weather station Toronto-Pearson in Canada. It's northeast of ERI—the only easy one in the freezing level description.
Speaking of ice, now the CFII has a multiple-choice question for you, a review item from the instrument rating knowledge test.
"If you encounter in-flight icing and ATC asks you to report your conditions, what are the official reportable icing values that you are expected to use?
A) Light, moderate, severe, extreme.
B) Trace, light, moderate, severe.
C) Few, light, moderate, severe."
Well, answer A gives descriptions of turbulence, not ice. The descriptions in answer B include the appropriate value "trace" (when ice becomes perceptible). Answer C, with the nonsensical value "few," is designed to distract.
"The answer is B", you say, hopeful for some sign of CFII approval.
"Let's fly", he says.
---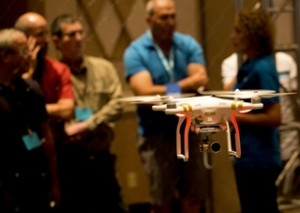 UAV's
New rule-making for small drones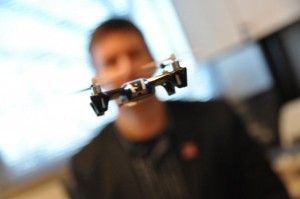 The FAA is putting together a new regulation that would allow small drones, which the FAA has previously defined as systems weighing 4.4 pounds or less, and built to a performance-based safety standard, to fly close to people during commercial operations.
AOPA will be among the stakeholders on a rulemaking committee assigned to work quickly on a new regulation that would apply to "micro" unmanned aircraft systems used in commercial operations. The committee will report to the FAA by April 1 recommendations for a new regulation that will govern flying "micro" drones in close proximity to people who are not participating in the operation.
Currently, operators authorized for commercial operation through exemptions issued pursuant to Section 333 of the 2012 FAA Modernization and Reform Act are generally not allowed to approach closer than 500 feet from people (other than flight crew members) unless those people are protected by a physical barrier; exceptions to that may be authorized on a case-by-case basis, with additional requirements imposed on operators, who must seek permission for specific operations and establish procedures (such as a closed set) and protective measures.
The Micro UAS Aviation Rule-making Committee will study and develop recommendations for performance-based standards that would allow small UAS (the committee may recommend a different weight limit than the 4.4 pounds originally stipulated in the draft regulations for commercial unmanned operations) to make much closer approaches. Manufacturers would have to demonstrate that particular unmanned aircraft meet performance-based safety standards such as frangible construction that allows the drone to bend or break easily, reducing the risk of injury in case of contact with a person (or an object).
The FAA proposed new regulations in 2015 to govern unmanned aircraft operations that included the creation of a "micro" classification of UAS for systems weighing 4.4 pounds or less. After studying the thousands of comments submitted, the FAA opted not to include that classification in the final rule, which is expected to be released later this year, but instead to create a separate regulation.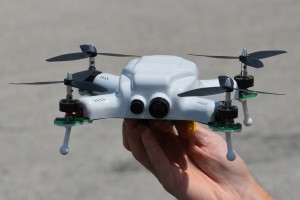 AOPA supports the safe integration of unmanned aircraft in the National Airspace System, and notes that UAS are an important segment of the aviation industry. The FAA has already authorized more than 3,500 operators to conduct commercial UAS operations through the exemption process, and the industry is expected to grow rapidly, employing more than 100,000 people and generating billions in economic activity within the decade, according to many estimates. Small, unmanned aircraft by necessity carry small cameras, and the 500-foot separation requirement precludes many filming operations that would otherwise increase the utility of these systems.
The rulemaking effort was announced a week after the FAA reported a collaboration with the Department of Homeland Security and CACI International Inc., a Virginia technology firm, that is developing an airport-based drone detection system that would triangulate the location of unauthorized unmanned aircraft flown too close to an airport, along with locating the operator.
CACI has developed a proof-of-concept system called Sky Tracker that uses radio frequency detectors at strategic locations, and was tested at Atlantic City International Airport, where Sky Tracker successfully identified and tracked unmanned aircraft systems and their operators during controlled trials between Jan. 25 and Feb. 2. That is not the only system that functions in a similar way: Airbus has developed a system that also can take control of "rogue" UAS.
---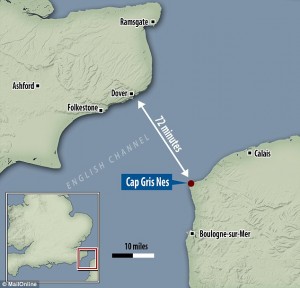 UAV's
Quadcopter makes aviation history by flying across the English Channel from France in 72 minutes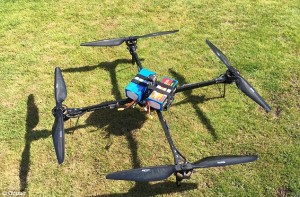 From sailing to flying, using the Eurotunnel and even swimming, we've been crossing the English Channel for centuries, and now a drone has successfully made the trip.
Last week, a British pilot made aviation history by piloting a custom quadcopter 20 miles (33km) across the English Channel in 72 minutes.
The journey was filled with challenges, but is thought to be the longest single official flight of a quadcopter in the world.
Dubbed Enduro, the aircraft (pictured) was customised by commercial drone operator Ocuair. It has a custom airframe designed by UK manufacturer Vulcan UAV, efficient T-Motors and blades, two huge 22 Amp hour batteries, secure and robust control links and GPS tracking devices.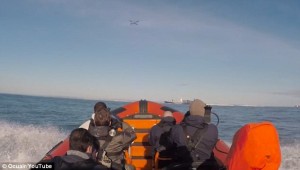 The drone was accompanied by a boat staying within a range of 1,640ft (500 metres), so operator Richard Gill, 35, could control the aircraft and stay within current laws. However, with GPS guidance and automated flight, the drone could have made the flight independently.
The purpose of the flight was to demonstrate commercial drone technology is more capable. It challenged previous assumptions on the endurance and distances achievable by multi-rotor drones.
It was not plain sailing, despite sunny and calm conditions, because the English Channel is the busiest shipping lane in the world and the drone and the boat had to dodge between two large vessels.
With tight time margins, Mr Gill couldn't afford to make large deviations from the most direct route, in order to set an impressive time.
The flight was going well as the crew passed "the point of no return" at 11 miles (17km). This is when the distance to the UK is shorter than returning to the original launch position.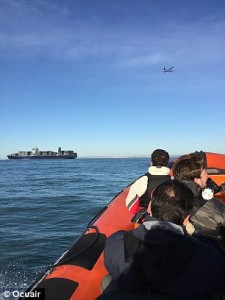 But at 14 miles (23km) the drone suddenly lurched to the left, forcing Mr Gill to switch off the GPS guidance and take manual control of the flight for the final 20 minutes.
The drone was launched from a beach in Cap Gris Nez, northern France and successfully completed the 21.7 mile (35km) journey to Dover on 16 February in 72 minutes. By comparison, a trip on the Channel Tunnel takes an average of one hour 45 minutes.
The journey was approved by the UK Civil Aviation Authority (CAA) and French Direction générale de l'aviation civile (DGAC) and the team operated within the standard rules for commercial UAV operations in the UK.


FSX CHICAGO is an official sponsors of the KBYF campaign!
Find out more about our RC/UAV community here: www.flyingym.com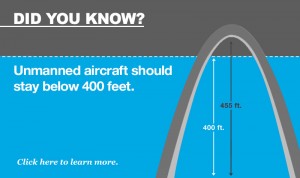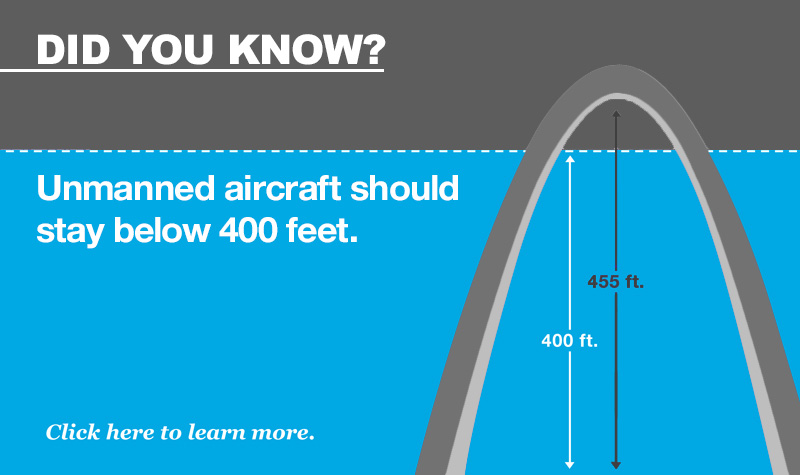 ---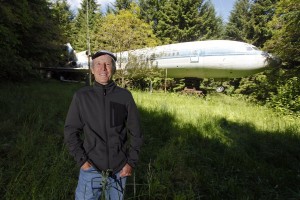 Crazy about… AIRPLANES!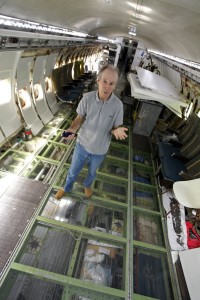 This guy turned an entire Boeing airplane into a house – now he lives in it
Most people might dread spending their entire lives on an airplane, but not Bruce Campbell. That's because his airplane, which stays on the ground, is his home.
The former electrical engineer turned a Boeing 727 he bought in 1999 into a home in Portland, Oregon. Reuters has photos of the space.
After modifications, 65-year-old Campbell's aircraft dream home cost him a total of $220,000. He spends six months out of the year living there, alternating between Portland and Japan.
In addition to his current home, Campbell is hoping to buy an even bigger Boeing 747-400 to convert into his home in Miyazaki, Japan.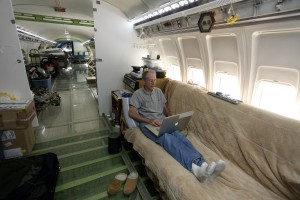 "I don't mean to offend, but wood is in my view a terrible building material", Campbell wrote on his website.
"But retired airliners can withstand 575 mph winds… are highly fire-resistant, and provide superior security. They're among the finest structures that mankind has ever built", according to Campbell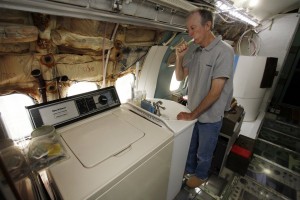 The plane sits on 10 acres of land that Campbell paid $23,000 for in his early 20s. He says he's had relatively few problems with zoning and building codes.
In total, the cabin and cockpit provide about 1,066 square feet of living space. Campbell removed nearly all of the passenger seats for more space.
Here's Campbell relaxing on his futon where he also sleeps. Beside him are his slippers — Campbell requires all guests to wear slippers or socks to avoid tracking dirt inside the airplane.
Campbell has converted the plane to have a washing machine, sink, and makeshift shower. He makes most of his food in a toaster or microwave and eats mostly canned foods and cereal.
Meanwhile, the cockpit serves as a "cyber office", according to Campbell.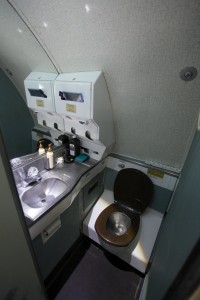 Campbell kept one of the three bathrooms on the plane as-is, saying that he found it quite comfortable.
"It's a great toy", Campbell says about his airplane home. "Trick doors, trick floors. Hatches here, latches there, clever gadgets everywhere".
Campbell spends half of his year in Japan, and is now hoping to buy a Boeing 747-400, which is roughly three times as big as his 727, to make a new home in the city of Miyazaki, Japan.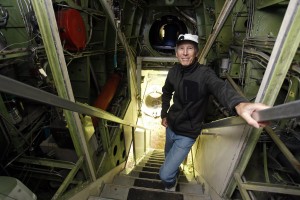 "Nothing compares to the exhilaration and satisfaction provided by an aerospace-class home, and many people understand this instinctively", Campbell said on his website.
Follow Campbell on his website AirplaneHome.com.
---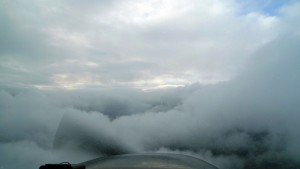 Pilot STORIES: I Learned About Flying From That:
What a Night!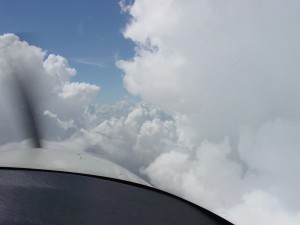 So there I was, wondering if the dark side of the moon was half this cold as I finished the preflight of my Cessna Caravan with the big FedEx logo painted on the side. It was winter in Bishop, California, on the eastern slope of the Sierra Nevada mountain range, which runs down the back of California. Now, slope is probably the wrong word as those mountains pretty much go straight up.
Early that morning I had departed Ontario, California, on an IFR flight plan to Inyokern, which is also on the eastern side of the Sierra Nevada. It had been an easy, straight-in visual approach, a quick turn to drop off about half my load of packages, and then VFR up the Owens Valley to Bishop.
Owens Valley, with Death Valley to the east and the Sierras to the west, has one of the largest rises in terrain in the United States from the burning sands to the snow-covered peaks. And I got to fly it every morning and afternoon — what a view! Of course, there were those days when the wind would push up the western slope and spill over into the Owens Valley, giving me a ride where it did not seem to matter if I held on to the yoke or not; the airplane was just a leaf in the wind. On those days I would question my choice of profession and talk to God.
As I was finishing up my preflight, the FedEx trucks rolled up and the drivers set up their scales, which mounted onto the conveyer/roller system used to load the airplane. In no time at all, the Caravan was loaded and I was on my way down the valley to Inyokern. Due to terrain, there is no IFR routing between Bishop and Inyokern; this had not been a problem up to now. On checking the weather before departure, Inyokern was VFR, as was Bishop… well, as they say, marginal VFR. There was low overcast and light snow reported between the two.
I was hardly out of the traffic pattern when I decided this was not going to work and it was definitely not VFR. Then everything turned an optic white. I had gone IMC. I'd made a turn toward U.S. 395, so a simple 180 would not take me back to the airport. It seemed like just a few heartbeats and I was engulfed in a full-fledged snowstorm and could only see straight down. I probably should've been doing something smart, but all I could think of was a line from some long-forgotten movie: "Your son died because he was stupid".
Stupid or not, I was not ready to buy the farm just yet. The gods smiled on me as my RMI was tuned to the VOR on the field there at Bishop. I put that needle on the nose and no sooner than I had rolled wings level, the airport was under me. I pulled the power lever to idle, slapped the flaps to full and pointed the nose toward the runway. Between that big old Hartzell prop going to flat pitch and those barn-door flaps reaching full, that Caravan slowed immediately.
I'm not sure that the folks down at the local FSDO would have approved of my pitch or bank angle, but as I was circling and descending to the runway the visibility was improving, and soon I could clearly see the threshold markings through the swirling snow. Let me tell you, no centerfold has ever looked so good or welcoming as those simple white lines did on the black asphalt.
Back on the ground and filling in the flight log, I realized I had been in the air less than 10 minutes, 0.1 hours to be exact. In the line shack (it was a shack back in those days) I called dispatch and explained that there was no getting to Inyokern this evening, fully expecting them to tell me to go back to the hotel — wrong again. They wanted me to file IFR and fly over the Sierra Nevada to Lancaster, where the FedEx truck from Inyokern would meet me. Great. So I topped off, filed, and off into the wild white I went.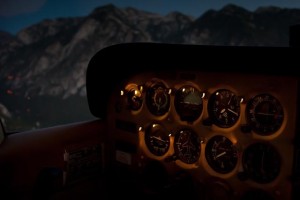 Now, there is no way that the Caravan (or anything short of the space shuttle) is going to outclimb the Sierras, so I was off to a holding fix, climbing, climbing, climbing to 16,000 feet, and then pointing the nose west. Once level at 16,000, I thought to myself, "Single pilot, single engine, unpressurized and on O2, over the Sierras at night in a snowstorm… doesn't get much better than this". Then I noticed my ground speed was all of 95 knots. Normal for the Caravan is around 165 knots. Dang, in my hurry to get on my way, I did not check the winds aloft. Now I'm thinking about fuel because we carry much more than what's legally required. Doing some quick math and checking the charts I soon saw that, even at 95 knots, I should be over the highest terrain shortly and able to start milking my way down to the lower minimum en route altitudes. If the wind let up just a bit, I'd make it to Lancaster just fine.
I was right about the point where I could get down to the lower MEAs, and the wind did indeed let up significantly. The snow had been replaced by rain. Or rather, ice. As many of you may know, there have been quite a few freight-hauling Caravans that came to an untimely end due to ice. Fact is, the POH for the Caravan says something to the effect of "if at full power you cannot maintain 108 kias, sacrifice altitude for airspeed".
That was a sentence I had hoped never to have to contemplate, but even as I worked the boots for all they were worth, it was a losing battle, and airspeed was headed slowly but surely south. At this time I was still about 6,000 feet, so I got on the radio and asked ATC for vectors out over the Great Central Valley of California, where I knew the MEAs run about 3,000 feet, and hoped the OAT was above freezing.
It is on these nights that ATC becomes your best friend. As I got cleared to a lower altitude, off went the ice.
Now I headed down the valley to Bakersfield and then a little left over the Tehachapi Mountains and down into Lancaster. All went well as I was handed from one controller to the next. Off in the distance I saw quite a bit of lightning, but it was mostly clear from my current position to Lancaster, and I was able to shoot a visual approach. I shut down on the dark ramp, climbed down from the cockpit and noticed the place was deserted. Where was everyone?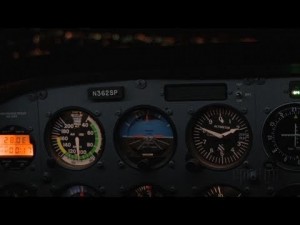 I started looking around for a pay phone to call dispatch. I saw a figure walking toward me, under the dim overhead light of the FBO. He had an old cowpoke way about him, wearing an ancient, dirty Oakland Raiders ball cap, soiled especially bad on the bill where he lifted it on and off his head. His clothes sort of hung on his skinny, rail-looking frame, which vaguely reminded me of a piece of beef jerky. He asked, "You the pilot of that plane?" There not being another soul around, I was tempted to say something smart, but, being tired and needing answers and fuel, I replied, "You bet". "Well", he said, "the boys in the FedEx van have been here and gone. They said to tell you just to head to Ontario".
I wondered if I should take his word for it as he proceeded to ask if I needed fuel. As soon as I checked in with Center, they told me to contact the company, which now informed me that I had missed the connecting flight out of Ontario and that I needed to take my load on into LAX.
After a little dance with Center and LAX Approach Control, I headed to the big city. All the lightning I had seen earlier now looked like someone had spilled colored popcorn all over my radar screen. It seemed like every airline on frequency was asking for a weather diversion. There I was, low and slow, trying to get a word in edgewise, with Approach trying to work me around weather and the fast movers. Once again that night, I was thanking the great spirit in the sky for fast, efficient and understanding controllers. Landing long on Runway 7R and taxiing straight into the cargo ramp, I was happy to see that the folks there expected me. I took my first relaxed breath of the night and enjoyed the lights of Southern California on the short hop to ONT.
It was past 10 p.m. when I tied the airplane down for the night, checked the oil while it was still warm, did a quick post-flight walk around, and reflected briefly on all that had transpired for me to make it to that spot on that ramp that night.
Back at the hotel, my roommate long since turned in, I sat on the edge of the bed and thought to myself, "What a night!"…
---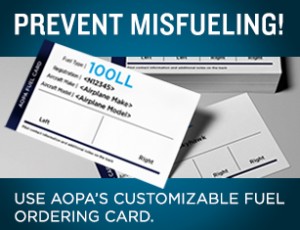 Aviation TRAINING
Prevent misfueling: Carry the card that can save your life!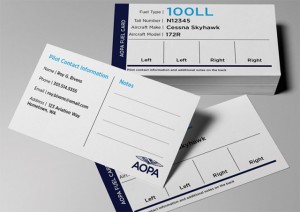 When pilots think about the fuel that goes into their aircraft, they usually focus on how much they'll need to get from point A to point B. But that's not the only fuel issue they should pay attention to.
Misfueling, while completely preventable, continues to be a problem, and over the past couple of years there's been an uptick in misfueling accidents around the country.
Misfueling happens because of human error. At the root of the problem is usually a miscommunication or misunderstanding that results in the wrong type of fuel being put into an aircraft.
For piston pilots, jet fuel contamination of avgas (100LL) is especially dangerous because it's impossible to distinguish pure 100LL from a mixture of 100LL and Jet A by simply checking the fuel's color. Unlike 100LL, Jet A fuel has a zero octane rating. If a piston engine runs with a mixture of 100LL and Jet A, engine-destroying detonation will almost certainly occur. How bad the detonation is depends upon the mixture ratio of the two fuels and the power setting, a recipe for disaster because detonation may not occur until full power is applied during takeoff. Most turboprop and jet engines will run (albeit poorly) on a mixture of Jet A and 100LL, and while this misfueling situation is not always life threatening, the maintenance bills can be significant.
Misfueling accidents are easily preventable if pilots take some simple precautions, and the AOPA Air Safety Institute wants to help! To make sure pilots and those responsible for fueling their aircraft have no doubt about the type, location (tanks), and amount of fuel needed, the institute developed a variety of fuel cards that pilots can personalize with information specific to their aircraft. The cards, which can be ordered from Vistaprint, will help pilots, line service personnel, and FBO customer service reps clearly communicate and confirm the fuel order to help prevent misfueling. So whether you fly a 100LL-burning piston or a Jet-A powered turboprop, the Air Safety Institute has you covered!
In addition to using the fueling safety business cards, the Air Safety Institute recommends these simple steps to help prevent misfueling:
– Be present and supervise the fueling;
– When placing a fuel order, confirm the type and quantity of fuel and ask for a read-back from the customer service representative;
– Make sure the person taking the fuel order and the person fueling understand the difference between tip tanks and auxiliary tanks, etc;
– After fueling, check the receipt to verify that your aircraft has received the proper fuel type and quantity.
Always sump the tanks before flight, especially after fueling;
– Smell the fuel: 100LL and Jet A have very unique and different smells, even a blend of the two fuels will smell of kerosene and much different than 100LL alone;
– Know your engine. Be able to recognize the signs of detonation caused by a misfueling!
---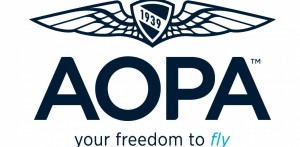 Aviation TRAINING
Changes to pilot testing and certification set for June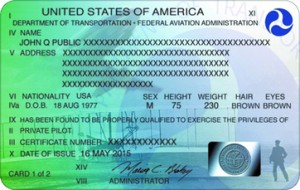 A new approach to pilot certification and testing is coming together with help from AOPA and industry experts, putting the FAA on track to meet a June 2016 goal of transitioning to the updated system for those seeking an airplane private pilot certificate or instrument rating.
AOPA chairs the current Aviation Rulemaking Advisory Committee's Airman Certification System working group, the final stage of a multi-year, industry-led effort to make the certification and testing process more relevant and meaningful to modern pilots.
Beginning in mid-June, the FAA plans to transition away from the current practical test standards (PTS) to the new airman certification standards (ACS) for private pilot-airplane and instrument rating-airplane applicants.
To prepare for the transition, the FAA is providing information on its website as various elements of the testing and certification program are revised. Among the items now available are draft standards for the private pilot certificate and instrument rating, a briefing about the new standards, answers to frequently asked questions, an informational brochure, and a document called "What's new and upcoming in airman testing?", which was updated this month.
The FAA has already tested the new standards in both Florida and Washington state and found them to be comparable to existing standards in terms of difficulty, time, and information required.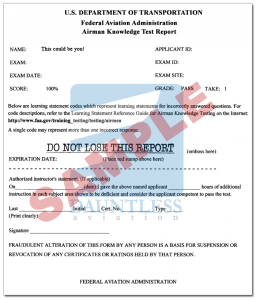 The new standards do delete some topics, particularly those related to outdated or little-used technologies and discontinued products. Among the topics that have been eliminated in the new ACS and current tests are ADF/NDB operations, world aeronautical charts, and questions about the height of blowing sand.
Questions about flight plans also have been temporarily removed. They will be updated to reflect the FAA's discontinuation of the domestic flight planning form in favor of the form used by the International Civil Aviation Organization, a transition scheduled to take place in October.
---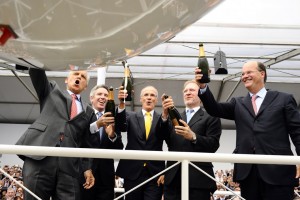 Aviation NEWS
Embraer Rolls Out New E-Jet E2 Family Aircraft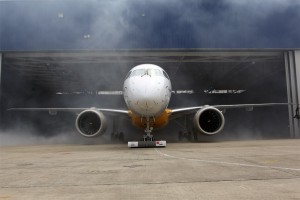 Embraer rolled out its new E190-E2 jet, marking the start of a new generation of regional family aircraft from the Brazilian manufacturer.
The family aircraft is the latest addition to competing new narrow-body aircraft: the Airbus A320neo, Boeing 737 MAX, Bombardier CSeries, Mitsubishi MRJ90 and COMAC C919 that have all been newsworthy over the last quarter.
The E2 family aircraft is a major upgrade to the original EJet series launched over a decade ago. The new family will comprise the E175-E2, the smallest member of the family, the E190-E2 and the stretched E195-E2.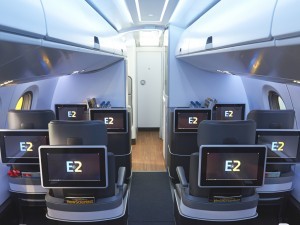 Launched in 2013 during the 50th Paris Air Show, the E2 includes a new, modern wing, improved aerodynamics and systems. It also incorporates a new power plant. Embraer selected the Pratt & Whitney Geared Turbo Fan (GTF) PW1000G, in lieu of the General Electric CF34 used on the current aircraft in production.
These improvements altogether are sought not only to improve fuel burn, but also to reduce carbon footprint and noise levels. Additionally, the range of the E2 has been significantly increased over the current generation of aircraft. In the case of the E190-E2, range was increased by 400 nautical miles (741km) to cover distances of up to 2,800 nautical miles (5,186km).
The E2 also offers improvements in the passenger cabin. While the aircraft will retain the same fuselage cross section of the current production models, Embraer has redesigned the cabin to include larger passenger bins, keeping the same 2+2 standard seating arrangement, with 97 seats in a two-class cabin configuration or 106 in a single-class layout.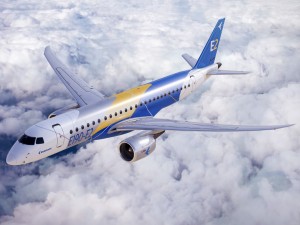 Since its launch, the E2 has obtained 640 commitments, 267 firm orders and 373 options and purchase rights from both airline customers and leasing companies. According to Embraer, the E-Jets are being operated by about 70 customers in 50 countries. With over 50% market share, they are the global leader in the segment of up to 130 seat aircraft.
This aircraft is the first of four prototypes that will be used in the E190-E2 certification campaign. The aircraft's first flight is scheduled for the second quarter of 2016, and entry into service is expected to take place in 2018. Two additional planes will be added for the E195-E2 campaign, which will enter into service in 2019 and three more will be used in the E175-E2 campaign, which is scheduled to begin services a year later.
---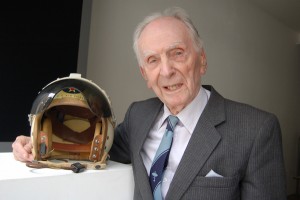 Aviation NEWS
Royal Navy's most-decorated pilot dies aged 97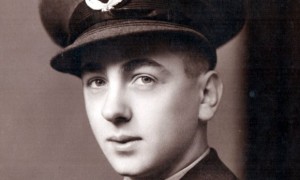 Tributes have been paid to the British pilot Eric 'Winkle' Brown, the Royal Navy's most decorated pilot, who has died at the age of 97.
Captain Brown holds the world record for the number of different types of aircraft flown (487) and also the Guinness world record for the number of aircraft carrier deck landings.
Brown held the world record for the most aircraft carrier deck take-offs and landings performed (2,407 and 2,271 respectively) and achieved several "firsts" in naval aviation, including the first landings on an aircraft carrier of a twin-engined aircraft, an aircraft with a tricycle undercarriage, a jet propelled aircraft, and rotary-wing aircraft. He also flew almost every category of RAF aircraft: glider, fighter, bomber, airliner, amphibian, flying boat, and helicopter. During the Second World War, he also flew many types of German aircraft, including new jets and rocket planes. He was a pioneer of jet technology into the post-war era.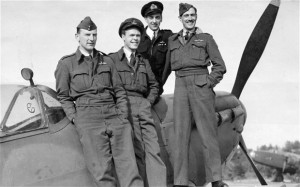 "Capt Brown was one of the Royal Navy's finest", First Sea Lord Admiral Sir George Zambellas said.
"The fleet air arm may have lost one of its finest and best-known pilots but British aviation has lost something even greater, the most accomplished test pilot of his generation and perhaps of all time, and a huge advocate of military aviation", said Zambellas.
A statement released by his family said: "It is with deep regret that the passing of Captain Eric Melrose Brown CBE DSC AFC is announced. Eric was the most decorated pilot of the fleet air arm in which service he was universally known as Winkle on account of his diminutive stature".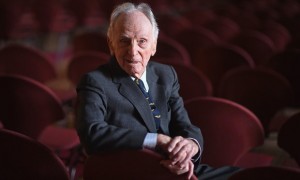 Capt Brown was the subject of the BBC2 documentary "Britain's Greatest Pilot: The Extraordinary Story Of Captain Winkle Brown", first broadcast in June 2014.
Last year, the former Royal Navy test pilot said he was pleased to have been reunited with the German rocket-powered aircraft he flew after capturing it at Husum, Schleswig Holstein, Germany, at the end of the second world war.
He piloted the Messerschmitt Me 163B-1a Komet a month after the conflict ended in Europe. On a visit to the National Museum of Flight in East Lothian in September he recalled the thrill of the flight.
"I was pleased to have the opportunity to see the Komet again, 70 years after I flew it. I was very determined to fly this rocket aircraft back in 1945 because to me it was the most exciting thing on the horizon, a totally new experience. I remember watching the ground crew very carefully before take-off, wondering if they thought they were waving goodbye to me forever or whether they thought this thing was going to return", said Capt Brown.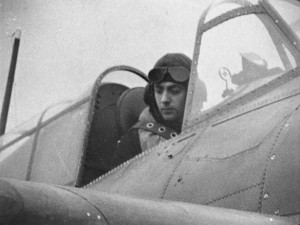 "The noise it made was absolutely thunderous and it was like being in charge of a runaway train; everything changed so rapidly and I really had to have my wits about me", concluded Eric Brown.
Capt Brown, who was born in Leith, Edinburgh and later lived in Sussex, was involved in the liberation of Bergen-Belsen concentration camp in northern Germany.
The Queen visited the camp last year, meeting survivors and liberators including Capt Brown, who described the scene as "a field of corpses".
He said the Queen replied: "It must have been horrific really".
---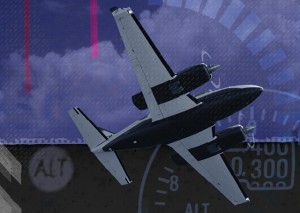 How did he do it? FLYING in EXTREME conditions
"Flying at night is the same as flying in the day, except you can't see" (Anonymous)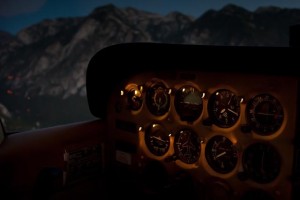 The Airman's Information Manual use to state, "Mountain flying at night in a single-engine light aircraft is asking for trouble". (The new Aeronautical Information Manual omitted this statement, so night flying in a single-engine light aircraft must be okay now.)
This text was replaced on May 27, 1993, with "Continuous visual contact with the surface and obstructions is a major concern and flight operations under an overcast or in the vicinity of clouds should be approached with extreme caution".
With improper equipment, ineptitude on the part of the pilot or bad weather, night flying can certainly be dangerous. However, with precautionary planning and with an understanding of night vision shortcomings, night flying can be one of the most pleasant experiences connected with aviation.
About one-tenth of all general aviation accidents occur at night, while fewer than 10 percent of the flying is done after dark.
Presuming that night flying is more dangerous than day flying on the basis of statistics is a fallacy. The airplane does not discriminate between light and dark.
Conditions of night flight are different from daytime flying and it is the pilot's knowledge, or lack of it, combined with a lack of visual clues that present an extra challenge.
A pilot may be subjected to times when the destination airplane lies beyond the rays of the setting sun. Perhaps an engagement becomes a compelling reason to venture out into the black of night.
Flying at night in the mountains is a matter of determining the weather condition to arrive at a personal go/no-go decision.
For those who decide to fly at night, an understanding of night vision differences and adjusting the flight operation accordingly, will increase the margin of safety.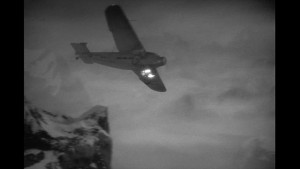 Night vision
Even a competent attitude-instrument pilot will need to use his outside vision during a night flight, if only in the transition during takeoff and landing.
What you see, or don't see, in the dark is dependent on the state of dark adaptation of your eyes.
If you enter a dark area, your vision improves slowly. After six to seven minutes the eyes are 100 times more sensitive than when you entered the dark. Full adaptation takes 30 minutes, at which time the rods of the eye are 100,000 time more sensitive.
This is due to the buildup of a photosensitive chemical called visual purple, the key to night vision. Visual purple is dependent on vitamin A (carrots, eggs, milk, cheese and most vegetables). Vitamin A cannot be stored by the body; it is necessary to eat well-balanced meals before night flying.
Although it takes 30 minutes for dark adaptation to occur, it can be lost in a second or two of exposure to bright light. Minimize the use of white light in the cockpit and keep it as dim as possible.
Dark adaptation is an independent process in each eye. If you are exposed to light, close one eye to preserve half your dark adaptation.
Scanning techniques
The cones of the eye, used for day vision, provide peripheral vision. Night vision uses rods. This creates a blind spot in the center of the eye at night. If you detect something with peripheral vision, the natural tendency is to turn and look directly at it. Night vision is impossible at the center of the eye, so a technique called "off-center scanning" must be developed. Look six to 12 degrees away from the object you wish to see.
Autokinesis
A visual illusion may occur at night if you stare at one light for a long period of time. Involuntary muscle twitches cause the light to be displayed on a different portion of the eye, creating false motion, where the light appears to move. Avoid autokinesis by the off-center scanning technique.
Night takeoff and departure
Before departing from a mountain airport at night, firmly fix in your mind the nature of the terrain and obstructions adjacent to the airport.
Pilots have no intention of making an emergency landing shortly after takeoff, especially at night, but it does not hurt to survey the terrain during daylight conditions to form a plan of action.
With the interior lights adjusted to the minimum brightness that affords instrument readability, initiate a normal takeoff.
Night Flying in the Mountains…
Acceleration error in the attitude indicator will cause an indication of a higher nose attitude than during a regular climb. As a consequence, some pilots have lowered the nose to the normal attitude and have flown into the ground.
The moment the airplane leaves the ground on a dark night, it is enveloped in black. Outside visual reference becomes impossible. Maintain a positive rate of climb based on the airspeed indication, regardless of the attitude indicator display.
Climb out
If you become disoriented during the climb out, terrain clearance becomes a big concern. Fly toward the rotating beacon. At airstrips without lighting, fly toward any light on the ground.

Terrain clearance
Proper preflight planning includes studying charts and developing a plan of action. Still, at some time during a night flight, you are going to experience a moment of fear arising from your concern about terrain clearance.
If there are any light around, use them. Fly directly toward the light. As you approach this light, select another light. If the light flickers or disappears, there is something between you and the light. Immediately choose another light to fly toward.
If there is only one usable light in the area, a shuttle climb in a holding pattern may be the most prudent course of action.
To perform a shuttle climb, make a 90-degree turn (direction depends on obstructions) and immediately turn the opposite direction for 270 degrees. This is the same as a 180-degree turn, but keeps the airplane confined to a small geographical area.
Before passing beyond the ground light, perform a 180-degree turn back to the ground light. Continue this maneuvering while climbing to a safe en route altitude before proceeding on course.
Weather
It is difficult to see and avoid weather at night. The first indication of a cloud may be a glow emanating from the navigation lights, or a brilliant flash of the strobes being diffused throughout a cloud.
VFR pilots should do an immediate 180-degree turn.
Restricted visibility conditions become apparent with the gradual disappearance of lights on the ground or when they become fuzzy and flow.
Remember, the horizontal visibility through a restriction such as fog, haze or smoke is must less than when looking down through it from above.
Pilots get into trouble trying to land at an airport with fog because they fly over and can see the runway, but when on final approach they can't see anything.
Approach for landing
Distances at night are deceptive, due to lack of illumination and inability of the pilot to judge them by the usual method of comparing the size of different objects.
At night, fly towards an airport light and make a standard pattern, rather than attempting a straight-in approach. The perception of distance can be dealt with by flying the downwind leg until the touchdown point is half-way between the wing tip and tail. They turn onto the base leg.
The only way to approach a runway in the mountains at night, with complete safety, is to incorporate the "spot method for landing" technique.
The flare and landing is accomplished in the same manner as during the day. There may be a tendency to look too far down the runway, causing the flare to be too high.
Night flying tips:
– Always carry a workable flashlight (You can recognize the pilot who has flown at night without a flashlight. He's the one that has two or more flashlights in his bag);
– Close one eye when exposed to bright light;
– Force the eyes to view off-center;
– Blink the eyes if they become blurred;
– Do not attempt violent or abrupt maneuvers at night;
– Watch for the disappearance of ground lights or an area of glow around the navigation lights. This indicates entering instrument conditions;
– Remember the deceptiveness of altitude and speed at night. A normal approach looks steeper at night, creating an illusion of overshooting;
– Distance judgment at night is less accurate than by day. A simple visual assessment can lead to a premature descent.
http://www.mountainflying.com/
---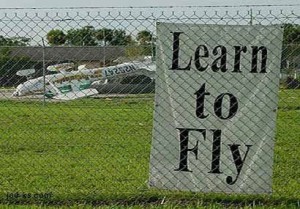 Latest INCIDENTS in aviation:
(Recent ACCIDENTS in the US)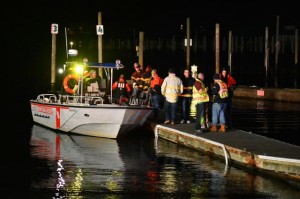 1. Missing After Small Plane Crash-Lands in Long Island Sound
Fighting frigid water temperatures and racing against the clock, rescuers grabbed anything they could to help three men who were aboard a small plane that crash-landed in the Long Island Sound, less than a mile from shore.
A fourth man was still missing when the search was halted for the night on Sunday.The search has been deemed a recovery effort, police said.
The Piper PA-28 landed in Port Jefferson Harbor, about 60 miles east of New York City, at about 11 p.m. Saturday, authorities said. When officers responding to a 911 call made their ways to the shoreline, it was pitch black.
The 25-year-old student pilot, Austricio Ramirez, of the Bronx, was flying at the time the plane ran into engine trouble, but he turned controls over to the 36-year-old instructor pilot, Nelson Gomez, of Queens. All four men exited the plane into the water. Ramirez, Gomez, and a third person, Wady Perez, 25, of Queens, were rescued by Suffolk County police.
One of the men was wearing a lifejacket and losing consciousness when officers reached him, police said. An officer used his duty belt to hold another afloat atop a kayak and the third made it nearly to the shoreline when an officer threw him an inflatable ring to grab ahold of.
The three were treated and released at Stony Brook University Hospital. The fourth, Gerson Salmon-Negron, 23, of Queens, was still missing.
Coast Guard officials said the search for Salmon-Negron went on for 18 hours through the night, covering 90 square miles before the agency pulled its personnel from the search just after 10 a.m. Two police department boats and a dive team continued searching the harbor Sunday afternoon.
Authorities said the plane had left Fitchburg, Massachusetts, and was headed to Republic Airport in Farmingdale when the pilot reported engine trouble.
The FAA is investigating and the National Transportation Safety Board will determine the probable cause.
2. Plane Crashes After Hard Landing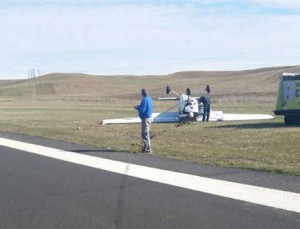 A small single-engine plane flown solo by a student pilot crashed after a hard landing at the Pullman-Moscow Regional Airport on Wednesday afternoon.
Airport Manager Tony Bean said the airplane touched down hard enough it broke the nose gear on the plane, and the pilot lost control, flipping the aircraft over in green space next to the runway.
Bean said he and the entire airport fire operations team were at the aircraft in about three minutes.
He said Interstate Aviation was on the scene about one minute later.
The pilot refused any medical assistance, was not injured and walked away from the crash, Bean said.
Before the runway could reopen, Bean said it is policy for an inspector from the Flight Standards District Office in Spokane to inspect the aircraft to ensure it is safe to be moved and document the crash.
"Broken planes are one thing, broken people are another", Bean said. "You can fix broken planes".
Bean said an inspector for the office was in Moscow and the runway was closed for about two hours to remove the plane, which resulted in one 30 minute delay for the 3 p.m. incoming Alaska Airlines flight.
The crash is the first for Bean since he came to the airport in June 2011 from the Yellowstone Airport in Montana, he said.
Lexington man killed in plane crash in Union County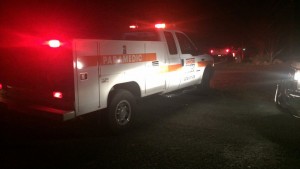 New details have emerged about the small plane crash that killed a Lexington man Thursday evening in Union County.
James H Cook, 68, of Lexington, was killed when the single-engine plane he was piloting went down in a wooded area near Tarlton Mill Road in Marshville between 6:40 and 6:45 p.m.
According to law enforcement and flight records, Cook had flown a client to Daytona, Fla., and was on his way back to Greensboro when the crash happened.
Investigators told WBTV that Cook was the only person on board the plane at the time of the crash.
Cook was a long-time pilot for Richard Childress Racing. He had retired from the race team and was working part-time for various corporate customers.
The cause of the crash has not been released. The Federal Aviation Administration is investigating the crash.
---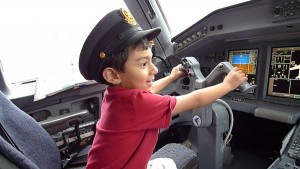 FUN with AVIATION
20 Useless Aviation Facts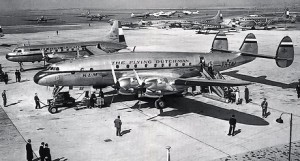 Ladies and gentlemen, welcome onboard. Ever wondered why American Airlines has less olives in their salads than other airlines? Perhaps you've pondered how much the most expensive plane ticket in the world costs? Want to know which airline is the largest purchaser of caviar, or who became the first to operate an all jet fleet?
Well wonder no more, as all of your questions, plus much, much more will be answered here. Impress your friends with our 20 Useless Aviation Facts.
01. According to one estimate, you can lose about two cups of water from your body for every hour you spend flying. While estimates of water loss during flight vary, it's well-known that flying causes dehydration in passengers, which can lead to deep-vein thrombosis on long-haul flights. Drink water before, during, and after a long flight.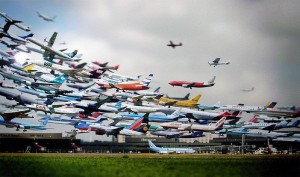 02. A man once wore 70 items of clothing in a Chinese airport to avoid the baggage charge.
03. Stewardess is the longest word in the English language typed with just the left hand.
04. The world's most expensive plane ticket cost Sydney millionaire Julian Hayward, an amazing $123,000, after being the first person to buy a seat on the A380 maiden flight between Singapore and Sydney in 2007.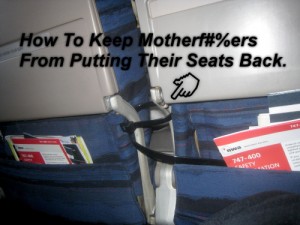 05. An aeroplane takes off or lands every 37 seconds at Chicago O'Hare's International Airport. That's almost 100 planes per hour.
06. Most planes flying internationally have their home country's flag painted on or around their tails. Generally, the flag is facing the correct way round on the left (port) side, and backwards on the right (starboard) side. This is because that is how the flag would look if it were hoisted on a pole above the aeroplane during the flight.
07. The specific rules regarding flight attendants vary among airlines and between countries. But in the UK and US there must be at least one FA per 50 passengers.
08. If everyone on a plane jumped up at the same time would the plane get lighter? The answer is no. Actually the opposite is true. Due to the basic laws of physics, every action has an equal and opposite reaction, so if you jumped into the air you actually force the aeroplane down a little bit, thus increasing its weight albeit momentarily.
09. "MAYDAY" is derived from the French word "m'aidez", which means "help me".
10. Prince Charles and Prince William will never fly on the same aircraft, just incase there is a crash.
11. In the 568 US plane crashes between 1980 and 2000, more than 90% of the crash victims survived.
12. Only 5% of the world's population has never been on an aeroplane.
13. The Boeing 747 (all versions) has traveled and estimated 35 billion miles, that is the equivalent of 75,000 trips to the moon and back.
14. A Boeing 747s wing-span is longer than the Wright Brothers first flight (120ft).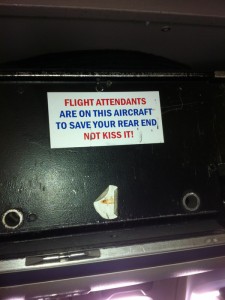 15. The first women flight attendants in the 1930's were required to weigh no more than 115 pounds, be nurses and un-married.
16. 75% of all inflight arguments between grown adults are a result of economy passengers reclining their seats. Grow up!
17. Pilots are 75% more likely to be at the front door saying goodbye to passengers after a good landing than after a bad landing. That's probably why none of the flight deck I know ever leave the cockpit.
18. Two to six hundred million gallons of waste-water is created each year from aircraft de-icing.
19. Hijacking of aircraft was not officially outlawed until 1961.
and finally…
20. Cabin crew are onboard an aircraft to save your arse, not kiss it!
http://confessionsofatrolleydolly.com/
---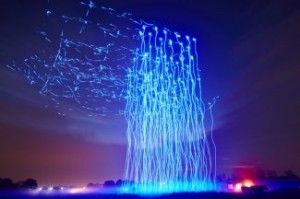 VIDEO of the WEEK: Drones Dance To Beethoven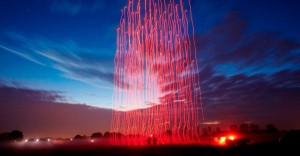 Although most of the drone news these days is about regulations and dangers (perceived and real) their use can result in some truly magnificent marriages of art and technology.
We missed this when it first surfaced in November of 2015 but the Guinness World Record flight of 100 drones controlled by Intel software to a live performance of Beethoven Fifth Symphony at a small airport in Germany demonstrates a little about what's possible.
The orchestra is pretty good, too.
---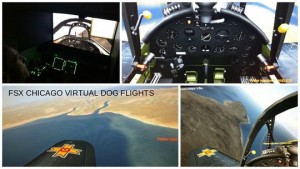 DREAM FLIGHT Challenge
!

Our motion simulator allows many type of aircraft to be flown.
Take advantage and book a
DREAM FLIGHT!
Choose from a single engine, twin, turboprop, jet and take to the skies. Get flying tips from our instructors. If aviation is your passion, you have to come see our new and improved Aviation Center!
Call 708-299-8246 and have fun in our Motion Simulator!